Oct 30, 2009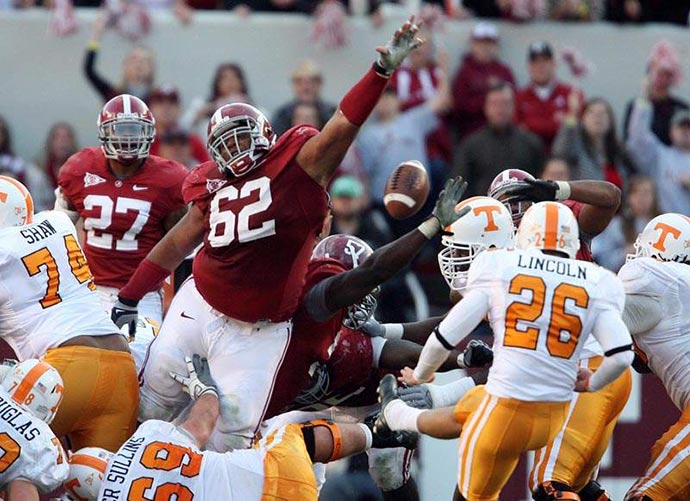 Please forgive me for writing here about Alabama football--just this once, I promise, at least till next year.

Some people don't like football. And even among those who do like football, some don't like Alabama football. All I can say is: better luck in your next life.

Nobody doesn't like Terrence Cody--Mount Cody--the unheralded defensive lineman from Mississippi Gulf Coast Community College who showed up for practice in Tuscaloosa weighing 400 pounds. Off the field, they say, he's a gentle, teddy bear sort of guy, who likes cartoons on TV and sleeps on Spiderman sheets. On the field, he's not gentle; Alabama's defense is ranked number one in the nation, and on that defense Cody has participated in more than his share of tackles and sacks. Last Saturday, he saved a close game for the Tide by blocking two field goal attempts, including one in the final seconds of the game.

But Mount Cody's value to the team doesn't really show up in the formal statistics. Basically, he is so big and strong that the opposing team will need two guys to contain him. This double-teaming gives his teammates a numerical advantage; because of Cody, somebody else is wide open to make more tackles and sacks.

Last Saturday, Tennessee put two guys on Cody, the Sullins brothers, identical twins who are big, strong, experienced offensive linemen. They each weigh something like 275 pounds. Cody has trimmed down a bit; even at 400 pounds he had moves, but now at 365 he can almost run. Still, he outweighed either of the Sullins boys by a good 90 pounds. Several times during the game, double-teaming didn't work to stop him; he would swat the first guy out of the way before the second guy showed up to help--and when Cody gets moving, it might take three or four guys to stop him.

Bama has a number ofl exciting players, including defensive linebacker Rolando McClain, who seems to be a football genius, always guessing right about what the other guys are going to do with the ball. On offense, there's the ridiculously fast receiver Julio Jones and the running back Mark Ingram, a sort of zombie runner who won't stay dead.

But last week was all about Mount Cody. Here he is, number 62, blocking a kick., Notice the Tennessee player lying down in front of him, number 69--that's one of the Sullins brothers, just trying to do his job.
Tuscaloosa
sports
football
Alabama
Crimson Tide
Terrence Cody
Mount Cody
(Image credit: Tuscaloosa News)