May 13, 2010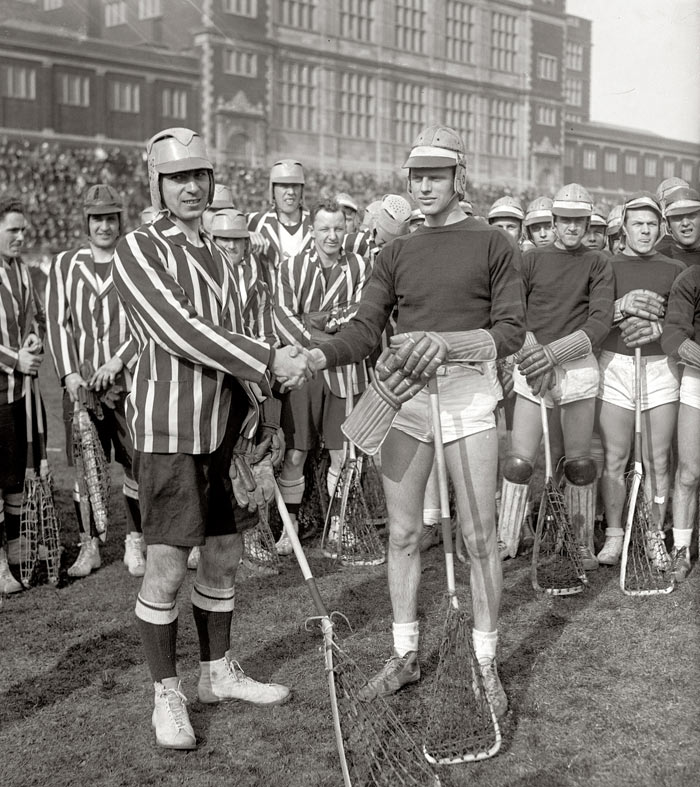 In 1930, a lacrosse team made up of players from both Oxford and Cambridge toured the United States, taking on all comers and thrashing them. Apparently, many of the Oxford-Cambridge stickmen were Americans studying abroad, including a number of Rhodes Scholars who had excelled at lacrosse during their undergraduate years.
Only one American team beat Oxford-Cambridge that season: the St. Johnnies from Annapolis, Maryland, shown here in short-shorts posing with the jacketed Englishmen in front of Washington, D.C.'s Central High School, where the game was played. St. John's won, 7-0.
St. John's College is now a super-intellectual "great books" school where students study the classics in the original Greek and have no time for intercollegiate sports. Every year, however, they do schedule one game against the athletic powerhouse located across the street from their campus in Annapolis, and they usually win handily. The game they play is croquet, and their opponents are the midshipmen of the U.S. Naval Academy, who complain that the Johnnies have all year to practice croquet, while midshipmen have to march and run and shine shoes and do all that other time-consuming navy stuff.
sports
Washington
Annapolis
Oxford-Cambridge
jackets
St. John's College
shorts
lacrosse
National Photo Company collection glass negative