Sep 2, 2011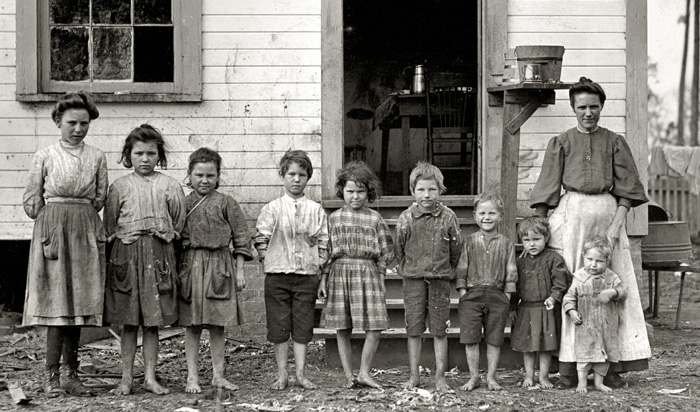 Photographer Lewis Wickes Hine, when he stopped in Tifton, Georgia, in 1909 during his travels to document child labor in America, made the following notes about this picture:
Family working in the Tifton Cotton Mill. Mrs. A.J. Young works in mill and at home. Nell (oldest girl) alternates in mill with mother. Mammy (next girl) runs 2 sides. Mary (next) runs 1½ sides. Elic (oldest boy) works regularly. Eddie (next girl) helps in mill, sticks on bobbins. Four smallest children not working yet. The mother said she earns $4.50 a week and all the children earn $4.50 a week. Husband died and left her with 11 children. Two of them went off and got married. The family left the farm two years ago to work in the mill.
Researcher Joe Manning, who has been working for years now to discover what became of the children in Hine's photos, picks up the story:
For more than four years, I tried to identify the mother and children in this family...giving up, starting again, giving up, etc. I posted the photo on my website, hoping that someone would see it and know who this family was. On January 24, 2011, almost exactly 102 years since the date of this photo (January 22), I received the following email: "The family of Mrs. A.J. Young of Tifton, Ga. is a picture of my grandmother and great-grandmother's family. My mother knows more information." Several hours later, I talked to both the writer of the email, and her mother, got a few more facts (they didn't know a lot), and spent the rest of the day searching census and death records on the Internet. After eight more months of research, and interviews with numerous descendants, I have assembled the incredible story of this family, and I am close to posting the entire story on my website. I was able to track down the story of the mother, every child in the photograph, the two children who had recently married and are not in the photo, and the husband/father who had died. Exactly three months after Hine encountered this family, Mrs. Young, in desperation, placed the seven youngest children in an orphanage, and within several years, most had been adopted and lost contact with one another. One hundred years later, the descendants now know what happened to all of them.
I promise to let y'all know as soon as Manning posts the details of the Young family saga. In the meantime, Happy Labor Day Weekend to one and all.
Young family
Georgia
cotton mill
$4.50 a week
Tifton
child labor
(Image credit: Lewis Hine, via Shorpy)