Oct 19, 2009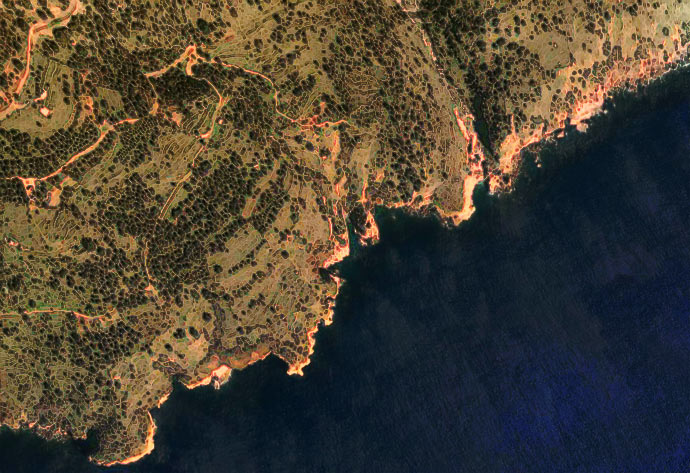 Sail due north from the island of Crete, and you'll get to Athens. If Daedalus and his son Icarus had only had a boat, that is what they might have done. But King Minos was holding them prisoner in Crete--he was enraged because Daedalus had helped Theseus slay the Minotaur and run off with the princess. And King Minos controlled the waters all around Crete, so escape by sea was out of the question.

Daedalus, a native of Athens, had been banished from the city for murdering his apprentice/nephew, a twelve-year-old boy who was so clever that Daedalus was afraid of being overshadowed. He fled to Crete with his son, where he built the labyrinth that Minos eventually used to imprison the two of them. Of course having built the maze, Daedalus knew how to escape it. But escaping the island was a whole nother ball of wax.

He built wings for himself and Icarus from feathers and wax. They flew northeast, toward Troy. We all know what happened next: despite his father's warning, Icarus flew too high, too close to the hot sun, and the wax holding the wings to his arms melted in the heat. He fell to his death in the blue waters now bearing his name, the Ikarian Sea.

His body was retrieved from the sea by Hercules, and he was buried on a hillside overlooking the Ikarian Sea, on the Greek island now known as Ikaria.

This satellite image shows the Ikarian Sea and a hillside on Ikaria, a terraced olive grove. Not much in this scene has obviously changed in the thousands of years since Icarus got too uppity. Although the island is beautiful and the people there are known for their longevity, they have not prospered. Many of the children of Ikaria have fled to far corners of the globe, in a twentieth-century diaspora. They publish a newsletter to keep up with one another, and in the 1960s they held a reunion back home, on the island. There was no place to house all the returnees, so they rented a cruise ship to use as a hotel and parked it just offshore.
landscape
Greece
Crete
Icarus
Daedalus
(Image credit: Thanks to Tina Lackeos)