May 24, 2010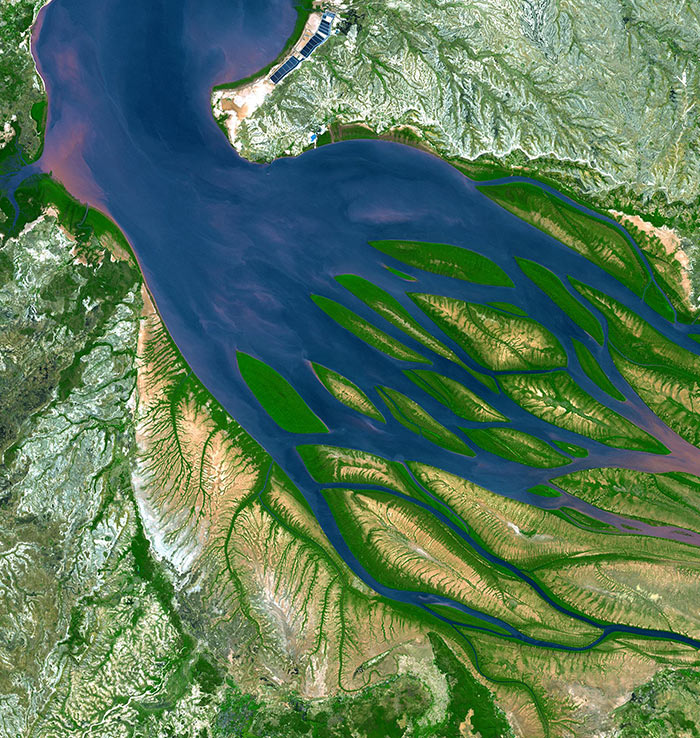 The Bestiboka River reaches the sea in the Mozambique Channel, along the northwestern coast of the island of Madagascar. There at the mouth of the river, ocean tides push saltwater upstream, slowing or even halting the downstream flow of the muddy river water; wherever the river pauses, sand and silt drop to the bottom of the bay, piling up into sandbars and islands.
In Madagascar's tropical climate, new sandbars quickly acquire a fringe of bright green mangrove scrub, which stabilizes the sediment and also shelters baby shrimp and other aquatic critters. Bombetoka Bay, the estuary here, is highly productive, especially for shrimp. The rectangular pens near the top of this picture are commercial shrimp farms.
The mangrove swamps along the lower reaches of the river trap vast quantities of sediment pouring down from upstream, which keeps the water clean and free of mud as it enters the bay; without this mangrove filtering, Madagascar's huge coral reefs just offshore (off the top edge of this picture) would soon die, smothered by sand.
birdseye view
Madagascar
satellite imagery
remote sensing
Bombetoka Bay
(Image credit: NASA ASTER satellite)