May 22, 2011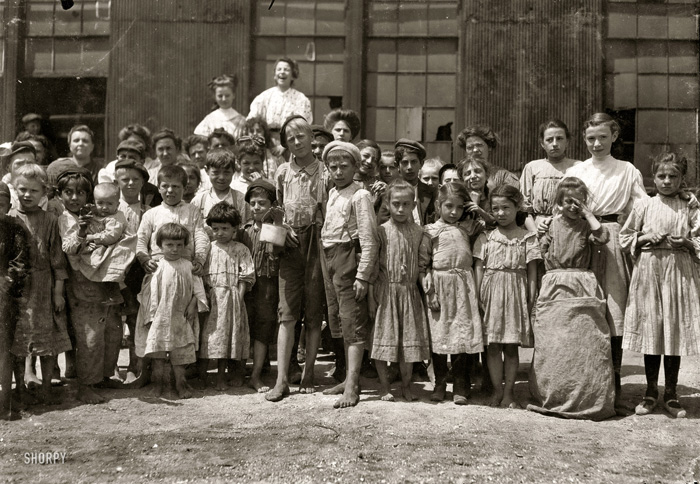 The caption is missing from this Lewis Hine photo in the Library of Congress, but it was taken in the year 1900 and is believed to show children who worked at a seafood-packing plant in Baltimore.
The Baltimore seafood packers were immigrant families who called themselves Slovonians; they came mostly from regions of Eastern Europe that would later become Czechoslovakia and Yugoslavia. After a few years in Baltimore, many relocated to Biloxi, Mississippi, which became the center of American seafood processing through much of the twentieth century. There is still a Slovonian Society and Social Club in Biloxi.
Lewis Hine's photographs of working children were part of his eventually successful campaign to end child labor in the United States. This picture is a bit different, however. If you click on the photo to view a larger version, you will notice that several of the children are clearly too young to pack fish; one is too young to walk. And unlike Hine's usual subjects, some of these children are smiling, even laughing.
Maybe the picture is a reject from the anti–child labor campaign, hence the missing caption. Perhaps the children were families of seafood packers, but not necessarily working themselves as seafood packers. But it is clear from Hine's other photographs that at least some of these children did in fact work long, miserable hours in the wretched factory they are posed in front of. They nonetheless laugh and smile, we have to assume, because that's what children do.
children
Baltimore
work
(h/t: Shorpy)
immigrants
1900
(Image credit: Lewis Hine)