May 1, 2011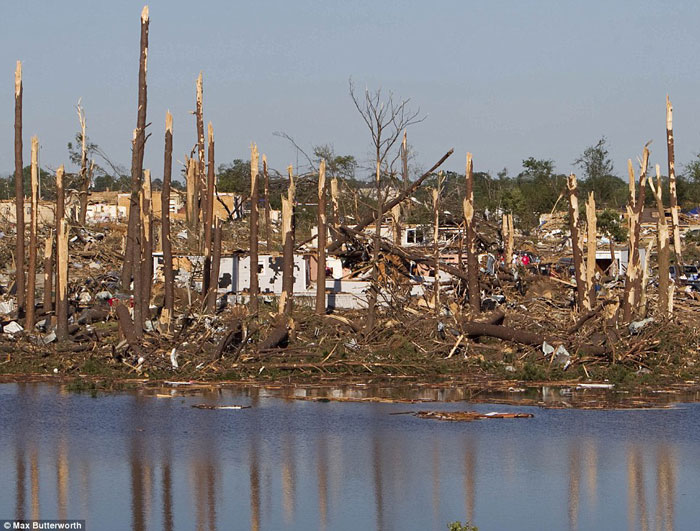 On Wednesday, 27 April 2011, an outbreak of severe tornadoes unmatched in the U.S. since 1932 destroyed homes and neighborhoods across the Southeast from Mississippi to Virginia. Hundreds of people died.
This is what one of the storms did to the house in Tuscaloosa where we raised our children. At least I think that's what we're looking at here; if it's not our old house, it's the house next door; there's not enough left to know for certain. The picture is disorienting in part because the house in the foreground near the waterfront, amongst the trees, must have been blown in by the storm from somewhere else; none of the houses on that side of Forest Lake was built so close to the water.
It's been forty years since an American city was shredded like this by an EF5 tornado, with winds exceeding 200 miles per hour; the last such storm was in 1970, when 26 people died in Lubbock, Texas. Wednesday's storm crossed through the middle of Tuscaloosa from southwest to northeast, devastating a path up to a mile and a half wide--about as wide as tornado paths ever get, according to the meteorological commentary I have been reading obsessively.
In some spots, winds were so strong that they ripped up the pavement and tore culverts out of the ground.
Our old neighborhood, Forest Lake, is pretty much in the geographic center of town. Most of it is gone now. The neighborhood just to the northeast, Cedar Crest, was hit even worse, if you can imagine that, and beyond Cedar Crest the neighborhood of Alberta City was completely obliterated, many houses reduced to clean slabs, with the debris sucked so high into the sky it returned to earth fifty or even a hundred miles away.
The house we lived in before this one was also destroyed, as was the elementary school all five of our boys attended.
We've been able to get in touch with almost all our old friends and neighbors, and they seem to be among the relatively lucky Tuscaloosans--homeless in some cases, but safe and sound. As of Saturday, the local death toll was 39 but expected to climb as rescue crews complete their search through the ruins.
More than 5,000 houses are damaged, and over 1,000 people have been treated for injuries at the hospital.
From now on, life in Tuscaloosa will be divided into a before and an after.
Tuscaloosa
Alabama
Forest Lake
tornado
home