Nov 14, 2009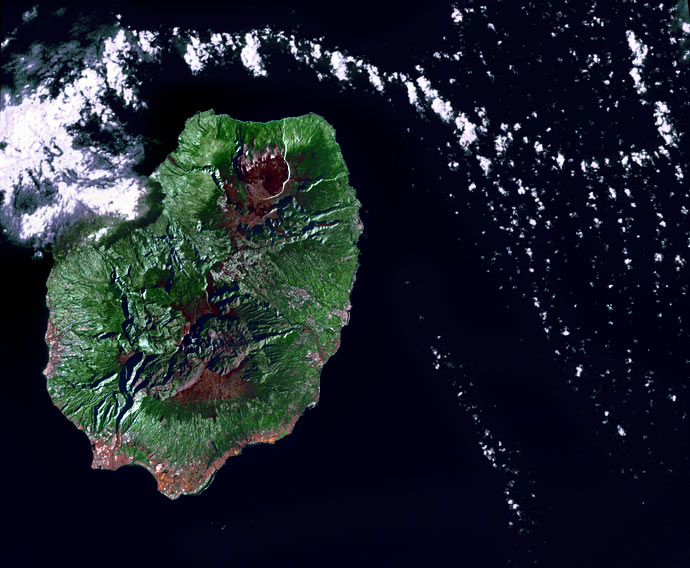 Early in the morning of June 19, 2002, the Landsat 7 satellite swooped across the Indian Ocean and snapped this picture of Reunion Island. The volcano there, Piton de la Fournaise, was quiet that day--the clouds in the picture are just clouds, passing by.

Geologically, Reunion is virtually a twin to Hawaii halfway around the world, a huge shield volcano above an oceanic hotspot. It has been one of the most active volcanoes in the world throughout modern history, erupting almost every year, sometimes more than once, since 1670. The whole island is made of basaltic lava; it's the tip of a volcanic monster mountain rising from the ocean floor. All over the island are volcanic vents, cones, craters, and large calderas, where lava domes exploded and collapsed. The caldera that is currently most active, toward the top of this picture, has slumped down all the way to sealevel at the coast.

Basaltic rock weathers to make rich soil, and here as in Hawaii the climate encourages lush vegetation. New lava doesn't remain bare rock for long.

Politically, Reunion is part of France; because of its time zone far to the east of Europe, the euro became legal currency here a few hours before it did anywhere else. Eight hundred thousand people live on the island.
birdseye view
geology
Reunion Island
Indian Ocean
volcano
(Image credit: NASA Landsat 7)