Feb 23, 2010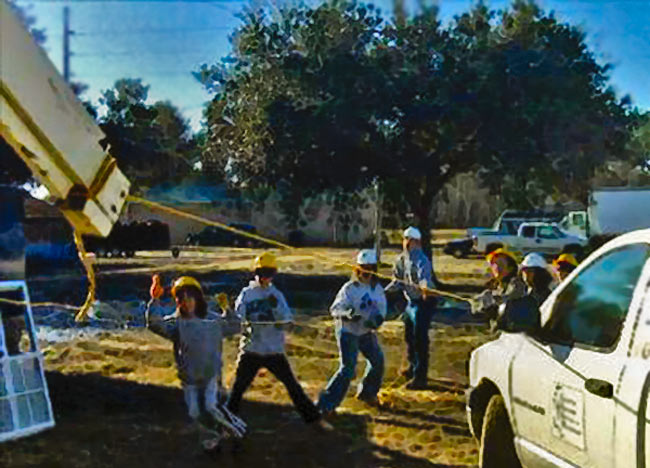 For the past four years, February vacation for about forty New Yorkers--volunteers from Woodlands Community Temple and Dobbs Ferry Lutheran Church--has meant a thousand-mile trip down to Bay St. Louis, Mississippi, and then a week of hard work amidst the devastation caused by Hurricane Katrina.
Josh Berlowitz, shown here working the ropes last week to pull down the roof truss from a house that couldn't be salvaged, has joined the group every February, clearing debris and helping to build new houses in a coastal community that lost everything in 2005. Katrina hit Bay St. Louis dead on. The day after the storm, levees failed in New Orleans, ruining the city, but Bay St. Louis was already beyond ruination by then, virtually obliterated by wind that tore off almost every roof and a storm surge that flooded every home.
In 2010, life is nowhere near back to normal. New homes are being built--high on stilts this time--but many people still have no permanent place to live, and not all the ruined buildings have yet been torn down. The obvious question is why the biggest, wealthiest country on earth cannot restore these communities. Josh and the other volunteers of Mississippi Mitzvot, some as young as thirteen, some close to seventy in age, are tackling the problems as best they can, year after year.
And this year, February vacation coincided with Mardi Gras. And the Saints won the Super Bowl. Who dat?
Josh Berlowitz
Woodlands Community Temple
Dobbs Ferry Lutheran Church
Bay St. Louis
Mississippi
Katrina