Jul 21, 2014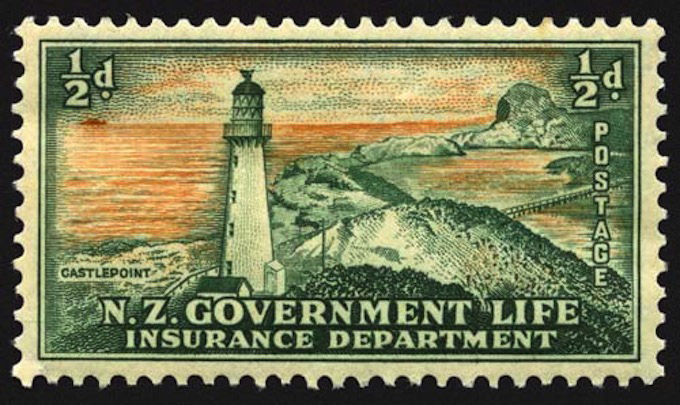 At the north end of Castlepoint sheep station is Castle Rock itself, noted and named in the eighteenth century by Captain Cook. The rock anchors one end of a limestone reef; on the headland at the other end is Castlepoint Lighthouse, built in 1913, originally fueled by oil but now wired into the grid and controlled from a switchboard in Wellington, a couple of hours away. Its light is visible 22 miles out at sea.
The postage stamp above dates from 1947. For almost a century beginning in the 1890s, the New Zealand government operated a life insurance company that had government franking privileges and printed its own stamps. Lighthouses were nineteenth-century symbols for insurance companies (as were big rocks, e.g., Mutual of Omaha). The government sold off its insurance operations in the 1980s, to a corporation doing business as Tower Life of Dunedin, New Zealand.
The reef at Castlepoint is not at all like the coral reefs growing placidly around tropical lagoons; geologically, it's a chunk of ancient seafloor millions of years old heaved up violently during seismic activity associated with the collision of the Pacific and Australian tectonic plates.
The limestone in the reef is richly fossiliferous, and directly underneath the lighthouse it's pocked with caves.
Inside the reef is a lagoon and a wide, hard-sand beach, crucial features in the development of a large sheep station here, back in the days before highways. Since the coast in this region has no natural harbors, sheepmen used to drive wagonloads of wool bales down the beach, to be loaded at water's edge into small boats that ventured out at high tide to meet up with cargo ships waiting offshore.
Today, shipping activity at Castlepoint is mostly recreational in nature, and the hard-packed beach now serves tractors and boat trailers. The blue tractor in the picture below is driverless and remote controlled from the boat, where the captain calls for it to push an empty trailer down into the surf and then pull the loaded trailer back up to high ground.
In the picture below, the tiny figure walking the beach near water's edge is my mother-in-law.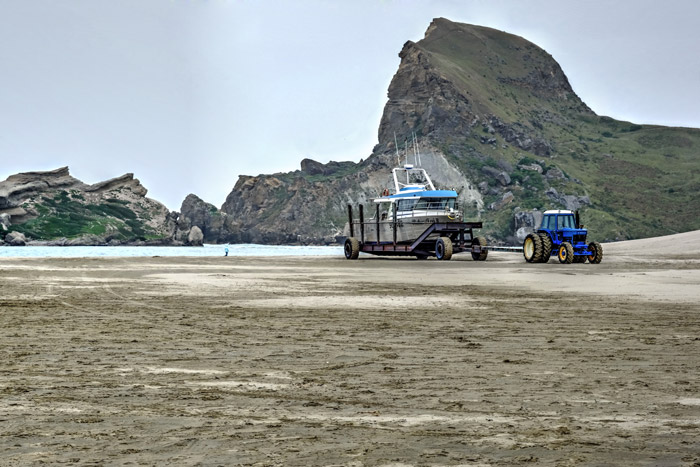 beach
sheep
New Zealand
geology
rock
Pacific Ocean
history
Wairarapa
lighthouse
(Image credit: Little Fuji [lower photo])