Apr 27, 2015
(This is a guest post by Ted. Since my mother is helping my grandmother move, and will not have time to write Good Mornings for ya'll, she has handed me the keys to her weblog. I will try not to wreck it.
With possession of the keys, and a full tank of gas, I decided to head on down to the Lone Star State. This is the first in a series of three posts from Houston, Texas. The next two posts will be about cowgirl boots. This is Texas after all.)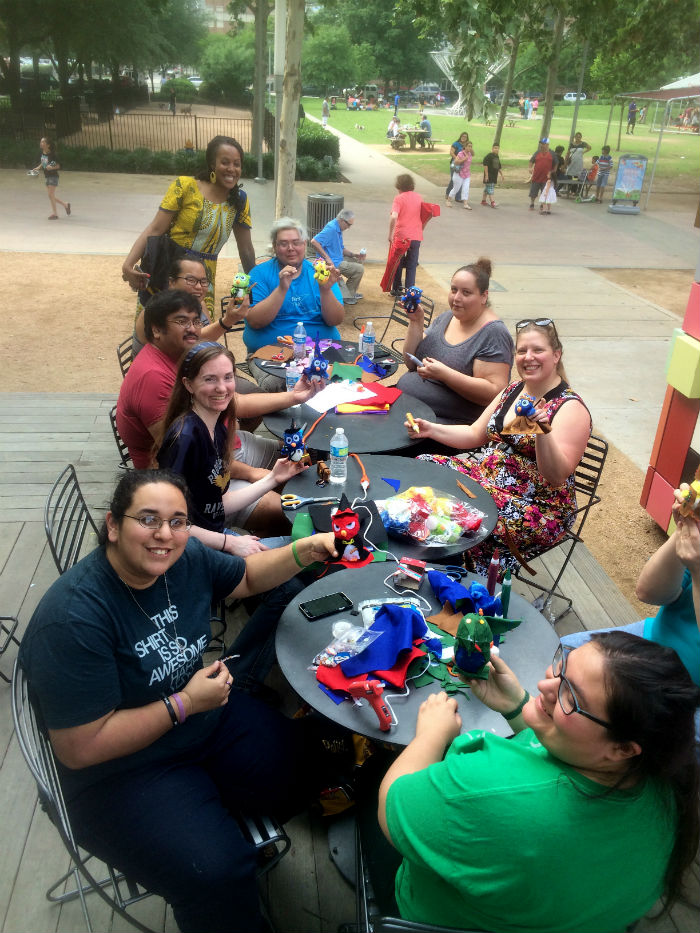 I happened upon the Houston Harry Potter Meetup Group's Owl Decorating Contest while enjoying a Sunday afternoon walking around Discovery Green, a lovely park in Houston.
The picture above contains the entire Houston Harry Potter Meetup Group (or at least the ones that showed up for the Owl Decorating Contest). I stood on top of a picnic table to take this picture and asked everyone to hold up their owls. My friend Tia, who hosted me in Houston, is also in the picture. She can be identified by her beautiful yellow dress and lack of owl.
I asked who was judging the competition and learned that the sole judge was Alyssa, head of the Gryffindor House. She is pictured below wearing an awesome shirt. Because she was the judge she was not allowed to enter the contest, but she did decorate an owl anyway.
Tia and I were offered owls to decorate, but we declined the offer.
Laura, the Deputy Headmistress, requested that I send her the picture I took of the group. I did so, via text message. Later in the evening I sent Laura another text message asking who won the contest and was informed that Robin was the winner.
Laura directed me to the group's Facebook page, which contained a picture of Robin's winning entrant: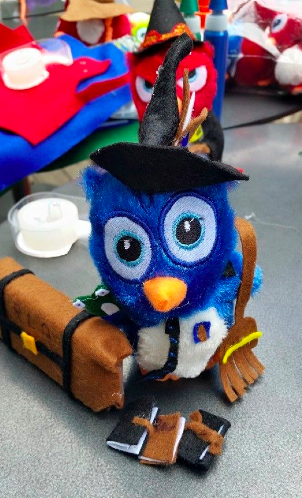 We here at Hole In The Clouds would like to congratulate Robin on her big win. That is indeed a nice owl.
Ted
Harry Potter
Owls
Houston
Allysa)
(Image Credits: Lil' iPhone