Apr 28, 2015
(This is a guest post by Ted, the second in a series of three posts from Houston, Texas.)
When I was a little boy growing up in the Bible Belt my mother told me something I will never forget. "There is no god" she said. "But that is a secret. You must remember not to tell anyone else. They will get very mad at you if you do."
There are many types of atheists; some are as intolerant of other ideas as the people I had to keep my atheist secret from. I have even heard atheists say there would be no war or oppression if there were no religion. Given the history of atheists like Stalin and Mao I find this belief a bit, well, faith based. Point being, I am a devout atheist, but not an evangelical or fundamentalist one. My mother doesn't raise intolerant atheists.
The preceding paragraphs were a bit of a circuitous path to lead up to the following short sentence: I don't mind going to church.
While in Texas, my host Tia, whom you met in yesterday's Good Morning, invited me to attend her church. Tia is on a "prayer team" and people lined up to pray with them. I snuck some glances at the people praying with Tia and her team. There were hugs and there were tears, a lot of emotions packed in to the few short minutes each person had with a member of the prayer team. I could tell those prayers help a lot of people get through the week.
Friends have taken me to many houses of worship all over the country. Some favorites were a black upper class church in downtown Washington, DC (I liked the women's hats) and a white working class church in rural Alabama (I liked the banjos). I have seen many churches, but never one like Tia's. The sheer size was mind boggling. The band had at least twenty instruments and the choir was the largest I have ever seen. There were thousands of people dancing and singing and praying and rejoicing.
Pictured up top is your correspondent and the church, before all the seats were filled with worshippers.
It is true what they say, things are bigger in Texas.
Not everything is bigger in Texas though. Little girls attending church are still little girls attending church. There is, however, one difference between little girls attending church in Texas and little girls attending church elsewhere. Cowgirl boots.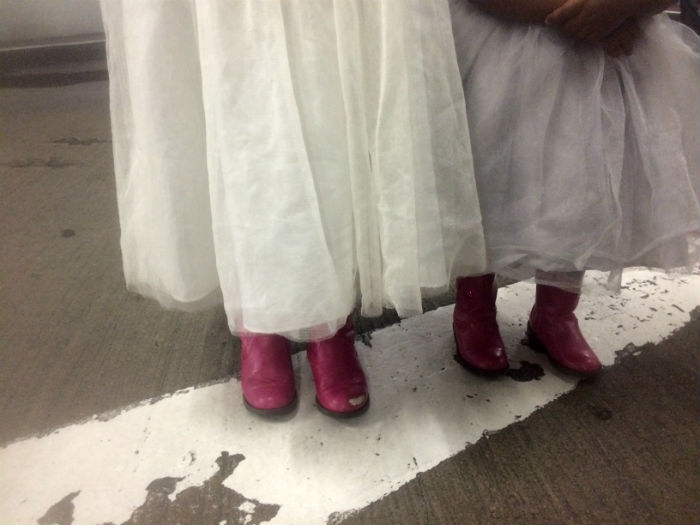 Ted
church
cowgirl boots
Houston
(Photo Credit: Lil' iPhone)