Aug 28, 2011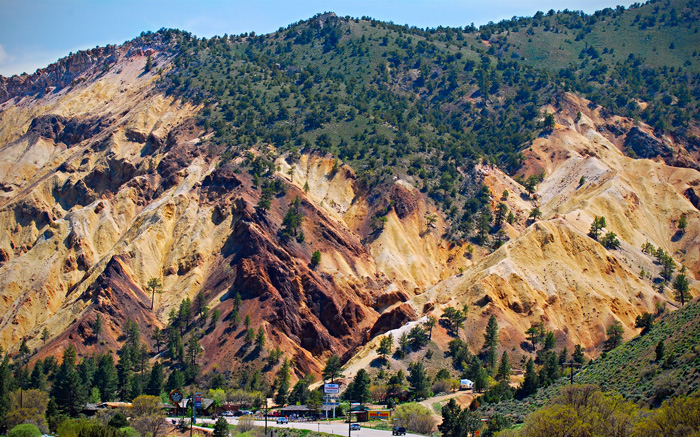 Well, I didn't know there really was such a thing as the Big Rock Candy Mountain, but here it is, rising above a resort with the same name along Highway 89 near Marysvale, Utah.
Volcanic explosions, followed by magmatic intrusions, followed by twenty-odd-million years of erosion and hot-springs-type chemical interactions have streaked the mountain with colorful mineral deposits. The reddish rocks contain iron-based minerals, including hematite and pyrite, while the whitish rocks contain potassium-based minerals, notably including kaolinite, a valuable white clay used to make paper glossy for magazines or photos.
The mineralization of Big Rock Candy Mountain acidifies runoff water, leaving the soil here relatively inhospitable to vegetation. Nonetheless, ponderosa pine are hanging on, especially near the ridgetop.
It's hard to imagine that in the 1930s there would have been anything about this part of the world that was hospitable to hoboes, either. No lemonade springs, no lakes of stew and whiskey too, no cigarette trees, nothing but more of the longing and aching that inspired Harry McClintock's song.
mountains
music
geology
Utah
Harry McClintock
mineral
Great Depression
Marysvale
hoboes
Burl Ives
(Photo credit: Ray Boren)