Jan 3, 2015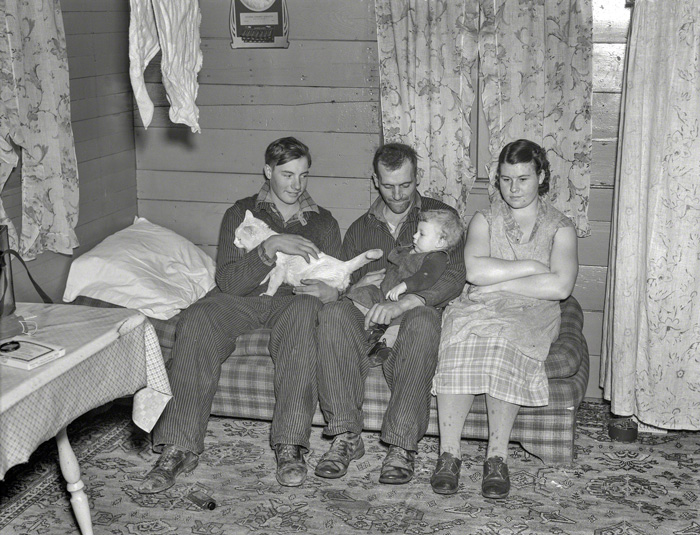 Lila Mae Helmke was 23 years old in 1936 when she appeared in this family portrait with her husband Bill, their son Allen, and her husband's brother, whose name was not recorded.
The photographer, Russell Lee, noted that the family all lived "in a one-room shack on a ninety-acre farm near Dickens, Iowa, owned by a lawyer."
We don't know how long Lila Mae and her family lived in that shack. But she and her husband had been born into farming families in Palo Alto County, Iowa, in the early years of the twentieth century, and they had been educated in country schools there. When they married in 1934, in the depths of the Depression, prospects for American farmers were nightmarish, even in places like northern Iowa, where the topsoil was three feet thick.
We have no record that the Helmkes ever owned any farmland. But they were farmers, and they stuck it out, trying to make a go of it somehow or other, for the first seventeen years of their married life, till Lila Mae was 38 and Bill was in his mid-forties.
In 1951, they gave it up and moved to town. They settled in Ruthven, Iowa, about seven miles east of the farmland near Dickens, where they had been born and raised.
By 1951, they had two nearly grown children, Allen and his younger brother Elton, known as Butch. Both boys would grow up, marry, and raise their own families in Ruthven, and they were still living there in January 2006, almost seventy years after the photo was taken, when their mother's death at the age of 92 was reported in the the Graettinger Times newspaper. Husband Bill–William August Helmke–had died in 1976, when he was 69.
Once the family had moved to town, Lila worked as a substitute cook at the Ruthven Community School and cleaned houses and the Ruthven State Bank.
She enjoyed sewing, gardening, and cooking, according to the obituary writer, and loved Jackie Gleason, Red Skelton, and The Price is Right.
The cat in the photo may have loomed large in her life: "She always had a family pet," wrote the obituary writer.
The smiling young man who is holding the cat in his lap, however, is lost to time. The photographer noted only that he was Bill Helmke's brother; we don't know his name, and Lila Mae's obituarist did not mention him at all, not in the list of survivors and not in the list of the predeceased. He looks of an age in 1936 to be called off to war just a few years after sitting for the family portrait, but even that detail is beyond our knowing.
family
baby
portrait
cat
Great Depression
Iowa
Lila Mae Helmke
farmers
(Image credit: Russell Lee via Shorpy)