Apr 2, 2016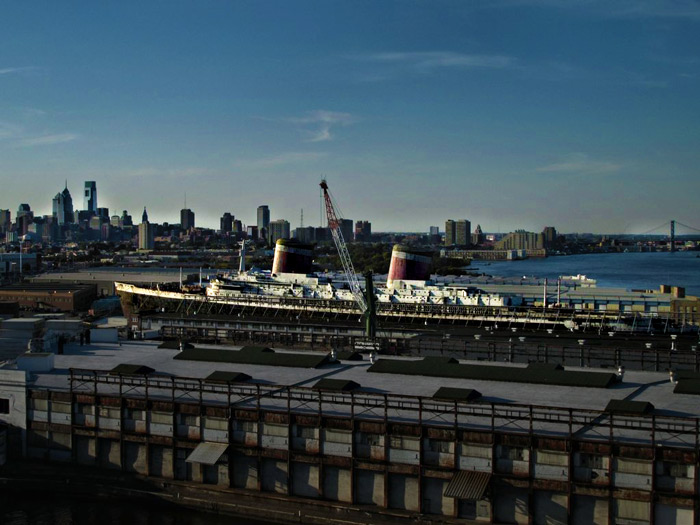 Twenty years ago, the SS United States was tied up to a wharf on the Delaware River in South Philadelphia to rust away next to Home Depot and Ikea and the cars whizzing by on Columbus Boulevard. The plan was to eventually ???
Once upon a time, this was the largest and fastest ocean liner on earth. Building it was the forty-year obsession of a man who never spent a day in school studying ship design; William Francis Gibbs was a lawyer by training, but in 1913, a year after that thing happened with the Titanic, he left his law practice and started drawing sketches for a bigger, better, safer, faster passenger ship.
The ship is 980 feet long, more than 100 feet longer than the Titanic. It's divided into 20 watertight compartments reaching almost fifty feet above the waterline, and it's designed to keep on sailing even if as many as five of the compartments are breached and flooded. It's also virtually fireproof; the only wood on board was in a Steinway grand piano.
When the SS United States was finally constructed after World War II, certain of its design features, including its four propellers and the shape of its hull underwater, were classified military secrets, in case the ship were ever refitted as a troop transport. Its maiden voyage from New York to Rotterdam–during which its engines ran at about about two-thirds of full speed–took less than four days, setting an Atlantic crossing speed record that was only broken by subsequent SS United States crossings. To this day, no other ocean liner has ever been built that could sail any faster.
But air travel, of course, waits for no ship. In 1969, the SS United States sailed for the last time under its own power. After idling for a while in New York, it was towed to Ukraine, where it was stripped of all its fittings (and of the asbestos that had helped make it so fire-resistant). Eventually, it was tied up a pier in Philadelphia, designer Gibbs's hometown, where business plan after business plan for the hulking hull never could attract the hundreds of millions of dollars that would be necessary just to stop the rust and turn it into something commercial, perhaps a floating hotel that would never leave the pier.
A nonprofit conservancy organization, meanwhile, has had to raise $60,000 a month just to keep the rusted thing afloat. This year is the final deadline, they say; if the money for a real plan doesn't show up this year, the ship will finally have to be scrapped.
At the moment, there's a new plan: Crystal Cruises, a Hong Kong–based cruise line, has taken over the monthly maintenance costs and signed an option to buy the ship within a year. The company says it is currently studying the feasibility of restoring it as a luxury cruise vessel, which could cost something like $700 million.
So maybe she'll sail again. Meanwhile, you can get a really good view of what's left of the SS United States from the parking lot outside Longhorn Steak House.
Philadelphia
ship
Delaware River
SS United States
William Francis Gibbs
big box stores
wharves
ocean liner
decay
(Image credit: