Aug 18, 2011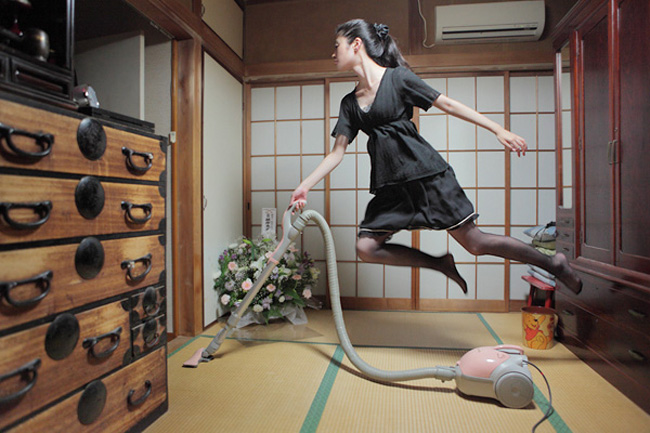 Natsumi Hayashi calls herself the Yowayowa Camera Woman, yowayowa being a Japanese word for weak or feeble. "Since I'm yowayowa," she says, "it's really heavy to carry SLR cameras around."
She lives in Tokyo with two cats and is devoted to her art: photography, "mainly levitating self-portraits." Levitating self-portraits done the way Hayashi does them are not easy to pull off. The levitation part is straightforward enough: she jumps. But catching herself on camera mid-jump, in a pose that looks levitation-like, floaty and non-jumpy, requires a little technique and a lot of patience.
Hayashi says she puts her camera on a tripod and composes the shot, setting the focus for where she plans to do her jumping. Her shutter speed is very fast, to freeze motion. Her camera can be set for a ten-second delay, allowing her ten seconds to run from the tripod to the jump location; at precisely the right fraction of a second, just before the shutter clicks, she leaps into the air.
Then she goes back to the camera and does it again till she gets it right. Her internal clock must be pretty damn good by now, after working on levitating self-portraits for more than a year, but even so, it is hard to predict exactly which part of a jump the shutter will happen to record, and perhaps hard to anticipate what that part of a jump will look like, composition-wise.
Also, after all that jumping, if her legs were once a bit yowayowa, they are surely yowayowa no more.
Japan
photography
Tokyo
(Image credit: Natsumi Hayashi)