Oct 31, 2009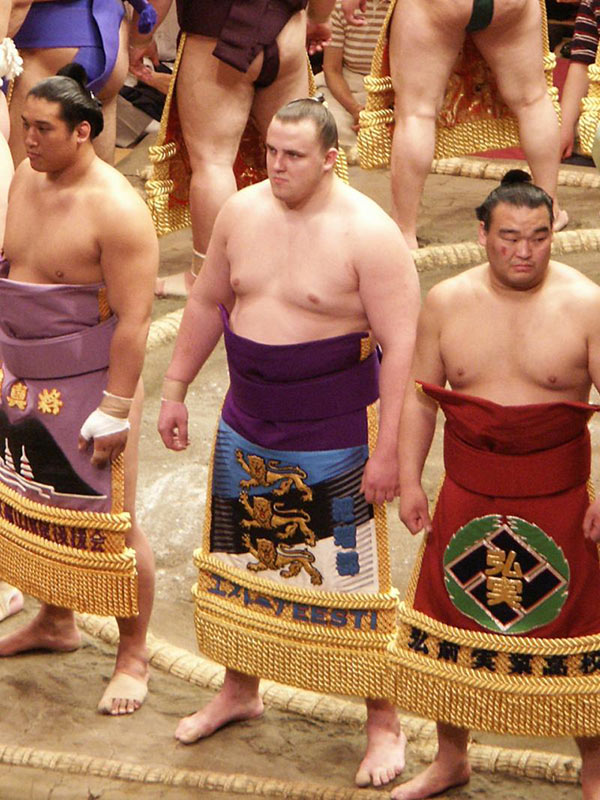 Kaido Hoovelson needed a stage name if he were going to get anywhere in the world of professional sumo wrestling; the name that stuck is Baruto, Japanese for Baltic.

Hoovelson was working as a nightclub bouncer in Estonia when his judo instructor suggested sumo as a good career move. Young men who are accepted into one of the "stables" of aspiring sumo wrestlers live and train together; they learn sumo technique and its cultural dimensions, and they get plenty to eat. Of course, newcomers--especially newcomers from foreign countries--could expect to be assigned chores, such as washing the clothes of the older wrestlers, and they would have to be tough enough to deal with hazing as well as wrestling.

But for Hoovelson to really succeed as Baruto, then first and foremost he would have to learn Japanese. His first word was "Itai": ouch. All instruction was in Japanese, as was all interaction day and night among the wrestlers in his stable. Within a couple of years, he became fluent enough to give TV interviews at tournaments, which turned out to be a good thing because he rose quickly to sumo stardom, even gaining his own fan club among young Japanese.

Beginning in the 1990s, a few foreigners have been among the 800 professionals working their way up the sumo ranks; two Hawaiians and a Mongolian have become champions of the topmost tournament league, Baruto, professional sumo's first Estonian athlete, is in the top league now and among the contenders for the overall championship.

In a profession of huge men, Baruto is among the tallest--6 foot 4--and as heavy as the heaviest--about 360 pounds. He has thrived on the Japanese meat stew that the wrestlers eat several times a day, but he has also sought out Western restaurants for a taste of home. In a Russian restaurant in Tokyo, he met Elena Tregubova from Vladivostok, the daughter of the proprietor. They were married last February, and Baruto insists he'd like to have five children with her.

A sumo match begins with several minutes of pacing and scowling. The actual fighting may last only a few seconds. It's all over as soon as one wrestler pushes the other out of the 15-foot circle or forces him to touch the mat with any part of his body other than his feet.

The picture shows Baruto participating in the ceremony associated with a sumo tournament. This video shows a match last month in which Baruto (in blue) needed only about 3 seconds to win; you can discern the finer points of his technique in the slow-motion replays at the end of the clip.
sports
Estonia
Baruto
Kaido Hoovelson
sumo
Japan