Oct 24, 2010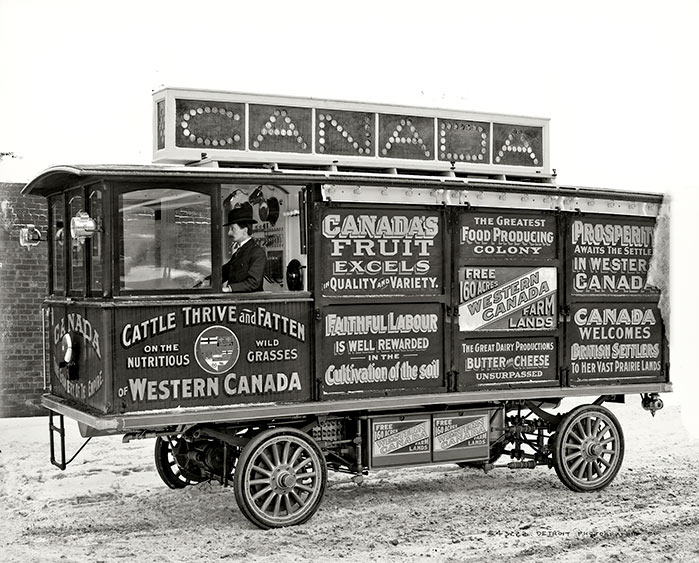 The stereotypical Canadian self-effacement apparently did not play a large part in 1905 in the design of this vehicle, a joint venture between the Canadian Pacific Railway and the governments of the brand new provinces of Alberta and Saskatchewan.
The motor car was intended to travel the byways of England, promoting immigration to western Canada and, perhaps incidentally, ticket sales on the Canadian Pacific Railway and its trans-Atlantic steamship subsidiary.
The promotional message left out a few details. For one thing, although homesteaders could indeed claim 160 free acres of land, it cost $10 to file the claim, a sum many would-be homesteaders could not come up with after paying the Canadian Pacific for steamship and railway passage. Also, in the, um, bracing climate of the Canadian prairies, 160 acres was not nearly enough land to support a family.
So although the promotional efforts succeeded quickly in populating the prairies--this round of Canadian homesteading was closed off by 1914--most of the homesteaders were ultimately unsuccessful at farming and ranching. Among those few who could stick it out long enough to prove up on their claims, drought years beginning in 1920 ultimately chased them away. Today the Canadian prairie provinces (like the U.S. prairie states) are littered with ghost towns and empty farmhouses.
The vehicle pictured here was a hybrid, powered by electric motors at each wheel and a gas engine that heated a steam boiler. It never did work properly and was abandoned in London.
vintage
Canada
Canadian Pacific Railway
hybrid vehicle
Manitoba
Saskatchewan
1905
(Image credit: via Shorpy)