May 4, 2011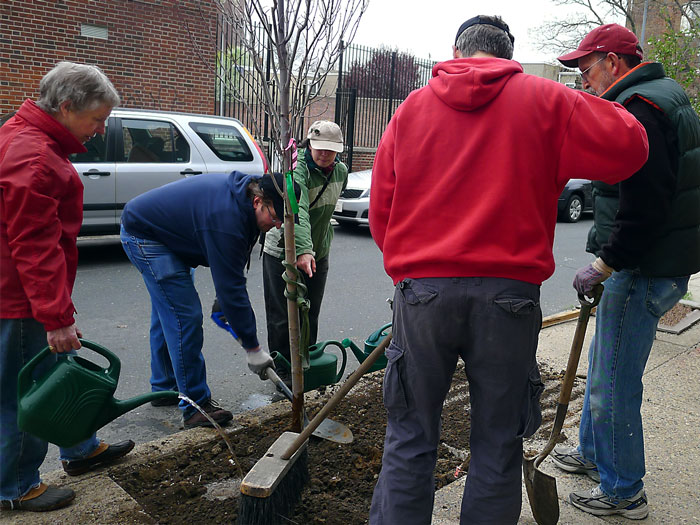 Every fall and spring, civic organizations add new saplings to Philadelphia's complement of street trees. Here, our neighbor Carolyn Duffy points out proper technique last month with one of her tree-planting crews.
Carolyn is a volunteer "tree-tender" working under the auspices of Schuylkill River Park and the Pennsylvania Horticultural Society; she and her volunteer crews plant about sixty trees a year in neighborhoods near Rittenhouse and Fitler squares. This tree is going in across the street from the public swimming pool near 26th and Lombard streets.
It's a big operation. Trees this size–with trunks about two inches in diameter–are expensive, often $200 each, if not more. Growing conditions on each particular block dictate different varieties of trees; for example, only short-growing trees can be planted under power lines, and only narrow, columnar varieties can be planted close to parking spaces. Some narrow old streets are so dark that many kinds of trees will not thrive; other spots are so open and windy that big, sturdy varieties are most appropriate.
Nearby homeowners are asked to supply mulch and to make sure the new trees are watered during their first two summers. The Pennsylvania Horitcultural Society supplies urban arborists who match trees to sites, check up on the trees' health, and see to any necessary pruning.
This spring, Carolyn and the neighbors planted gingkos, sycamore-like London plane trees, Bradford pears, ornamental cherries, and pretty little oak trees. In the upper right corner of this photo, behind the man in the red hat, you may be able to make out the green leaves and white flowers of a pear tree planted just last fall. In a few more years, all the real estate ads for houses on these city streets will boast of "lovely" tree-shaded blocks.
streetscape
Philadelphia
spring
Carolyn Duffy
Schuylkill River Park
Tree Tenders
Pennsylvania Horticultural Society