Mar 25, 2018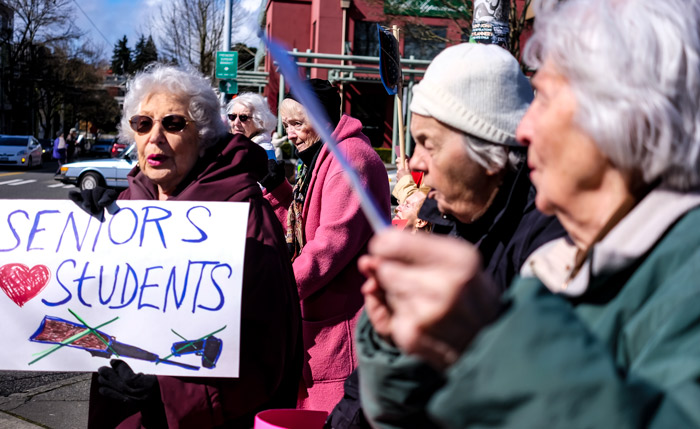 Our friends and neighbors who live in University House Wallingford joined the nationwide anti-gun/anti-Trump protest Saturday, braving the cold and the traffic to make sure their voices were heard.
Most University House residents are in their eighties or nineties. At least one of the protesters is a centenarian. Some of them rarely leave home on foot, wary of the neighborhood's uneven sidewalks. But this was important.
They held up handmade posters calling for gun control and school safety, taking up positions at a major intersection where Saturday shoppers would have to take notice.
Cars honked in their honor. Pedestrians thanked them. One storekeeper distributed gifts–well, gag gifts, since that was the store's specialty: little plastic fingers they could use for pointing at their signs.
Another neighbor, who'd ventured out to the grocery store for a gallon of milk, bought candy bars for all the protesters.
Time will tell how the politicians will respond.
politics
street scene
Seattle
demonstration
University House
Wallingford
(Image credits: Fuji T)