Hole in the Clouds
---
Tag: tourists
Jul 5, 2011
People wearing AC/DC shirts like to visit temples in Bakhtapur Square just like everybody else.
cityscape
Nepal
Bhaktapur
AC/DC
temple
tourists
Jul 8, 2013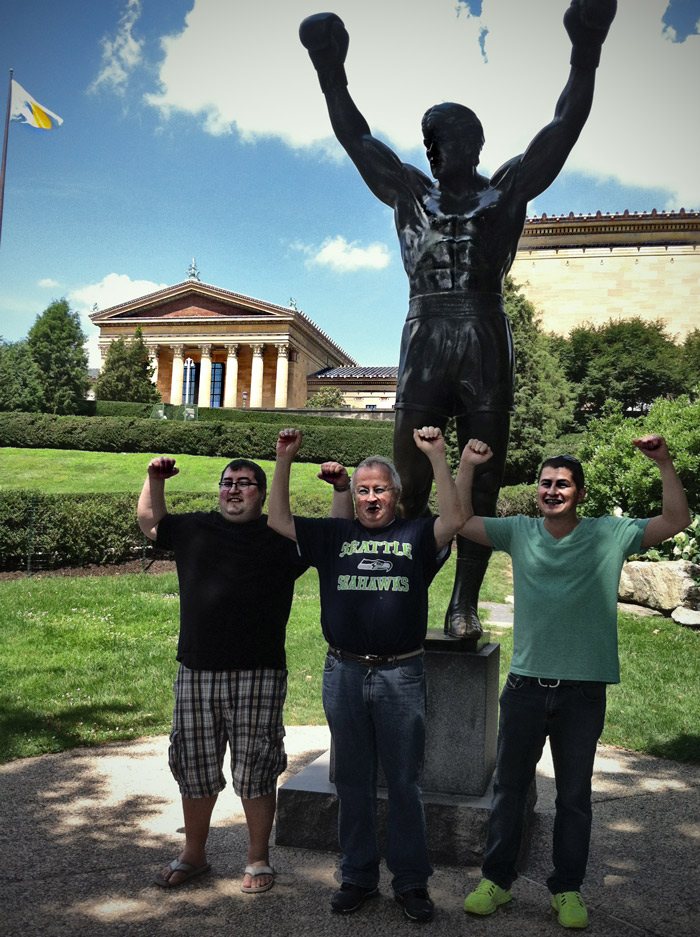 Philadelphia history is conveniently compressed: Benjamin Franklin flew a kite, then all those guys rang the liberty bell, and then Rocky Balboa ran up the steps of the art museum.
Today, Franklin is easier to find on an oatmeal box than on the city streets, and the liberty bell is cracked and silent. But Rocky? The fighter who never was, except, of course, in the movies? He's big and bronze and easy to find, right by the foot of the museum steps.
Tourists from all over the world seek him out daily, eager to pose for pictures with fists raised triumphantly, just like his. This group included my brother-in-law and his sons, visiting from Israel.
After their moment with the statue, the tourists run up the steps, just the way Sylvester Stallone did in the movies. But you may recall that when Rocky "really" was training for that first fight and running all over town, it was wintertime. He wore a hoodie and sweatpants, and we could see his breath.
This past Fourth of July weekend, the Rocky wannabes among the tourists–and they were legion, as always–were in shirtsleeves, if not shirtless. The sun was unforgiving, and the air was almost too thick and heavy to breathe.
But straight up the 72 steps everybody went, as their friends held up cellphones to record the moment. Entire tour buses emptied out to run up the steps. Children ran up with their grandparents. Dogs ran up with their people. Cyclists ran up with their bikes in their arms. Earbuds or no earbuds, everybody had "Gonna Fly Now" in their heads.
Search for "Rocky steps" on YouTube, and you'll find 86,500 results. Here's a nice short one in Spanish, viewed by more than a quarter of a million people.
The crazy part, of course, is that Rocky isn't real. People all over the world say his story in the movie is inspirational, proving somehow that even a nobody, just another bum from the neighborhood, can beat the best.
"I will do the stairs on my 50. birthday, december 2013," wrote one of the inspired people. "From germany just for one day. It's crazy, but it's a dream since 30 years. In all of us there is a rocky...."
At the top of the steps, some people feel ready to take on the world. Some of them propose marriage. Some of them go on into the museum, eventually. All of them turn around at the top and look out over the city, just like Rocky, and raise their arms high and then . . . probably they start thinking about cheesesteaks.
cityscape
Sandy Fuchs
Philadelphia
statue
tourists
bronze
history
movie
Martin Fuchs
Philadelphia Museum of Art
Rocky Steps
Josh Fuchs
Rocky