Nov 25, 2009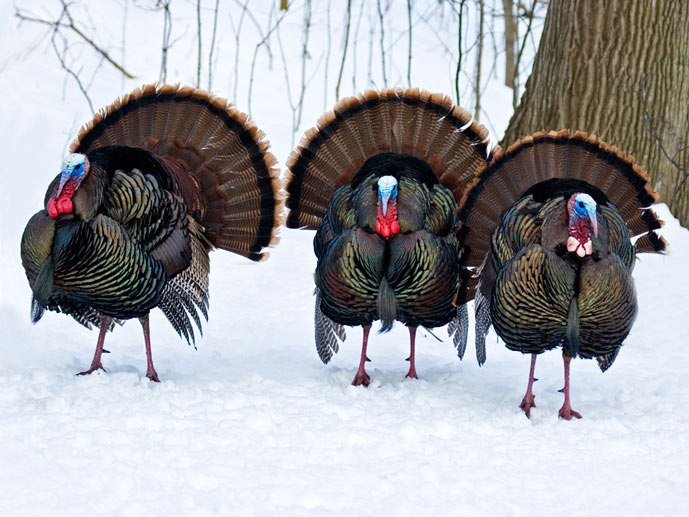 Last winter, up in Ottawa County, Michigan, John Dykstra saw dozens and dozens of wild turkeys--he estimates 50 or 60 on most days--flocking in a field at the back of his woods. He couldn't get close enough to them to take good pictures, so he moved an old metal shed building out there, cut a hole in the wall facing the field frequented by the birds, and sat and waited with his camera. The turkeys came back.

But Dykstra's wild turkeys don't look at all like the wild turkeys I've seen in Alabama and New England, which are much leaner-looking and not so fluffy. These have a thick body type similar to the huge-breasted domesticated birds. When I tried to do a little wild turkey research, however, I learned that there are several varieties, and that the ones I have seen before, even in Vermont and Maine, most closely resemble a variety said to be native to the Rio Grande region of west Texas and New Mexico. Go figure. Apparently, my understanding of all things wild turkey is all full of holes.

They say wild turkeys are making a comeback these days in many parts of the country, including Plymouth, Massachusetts, where they first pricked our cultural consciousness. Ben Franklin thought this bird ought to be recognized as our national animal, and he was onto something.

Drive carefully, y'all.
animals
Thanksgiving
winter
turkeys
(Image credit: John Dykstra)