Aug 1, 2011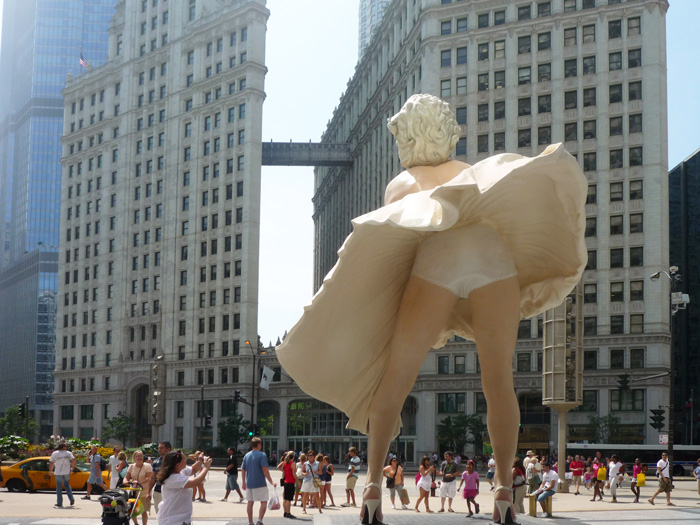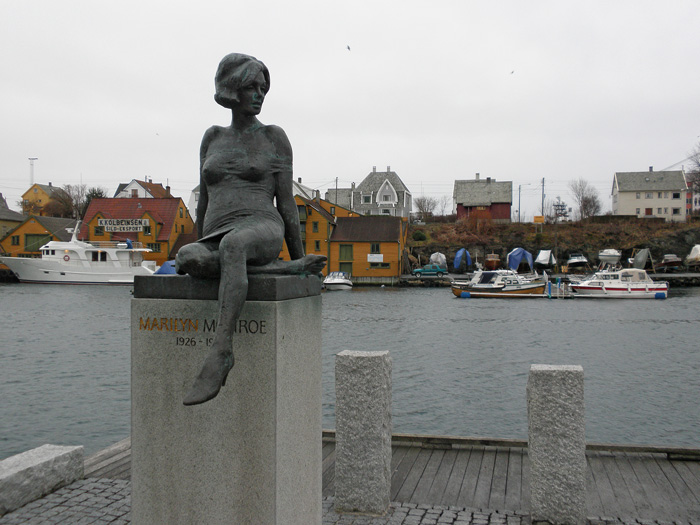 The Windy City has a new statue: a cast-aluminum Marilyn Monroe, 26 feet tall, in her Seven-Year Itch subway-grating pose, skirts afly. God and everybody can see her underpants, and tourists on Michigan Avenue can look up at her from between her legs. She'll be there through next spring, we're told, though the installation is called "Forever Marilyn."
Meanwhile, across the sea, in the Norwegian cruise ship port of Haugesund, a bronze more-or-less-lifesized Marilyn Monroe sits harborside, dressed in what appears to be a very short, very wet little cocktail dress with the straps slipping down off her shoulders. Like her Chicago cousin, she is wearing glimpsable underpants, and she's got one shoe on, one shoe off.
The town of Haugesund claims Marilyn on the theory that native son Martin Mortensen was her father. He had emigrated to America in the early twentieth century and married Marilyn's mother. But the couple divorced in 1924, two years before the birth of baby Norma Jean Mortensen, and he had abandoned the family years before that. It seems to be widely believed–except, of course, in Haugesund–that Marilyn / Norma Jean was fathered by somebody else.
On the mythological level, however, the Norwegian connection works. The overall character of Marilyn's short, sad life seems to reprise her mother's story, which ended in a state mental institution, to which she was committed when Marilyn was a baby. Maybe her mother, in her last troubled years, had attempted to reconcile with Martin Mortensen, just as Marilyn in her last days had been planning to re-wed Joe DiMaggio.
A couple things are clear. One, she wasn't really a blonde. And two, American exceptionalism does not require Marilyn Monroe's underpants in the public square. Both statues, but especially the oversized Chicago version, are creepy. At least the Norwegian Marilyn is sad and bedraggled, much as we remember the real star. But the Chicago Marilyn is comic-book iconography, the sexuality so outsized and the sexism so aggressive that the painted smile doesn't hide a thing.
Creeps me out. Obviously, I'm an old fuddy-duddy.
Chicago
Illinois
Marilyn Monroe
Forever Marilyn
Haugesund
subway grating
Norway
Norma Jean Mortensen
(Haugesund photo: Andrew Petcher)
(Chicago photo: Katrin Maldre)