Dec 25, 2009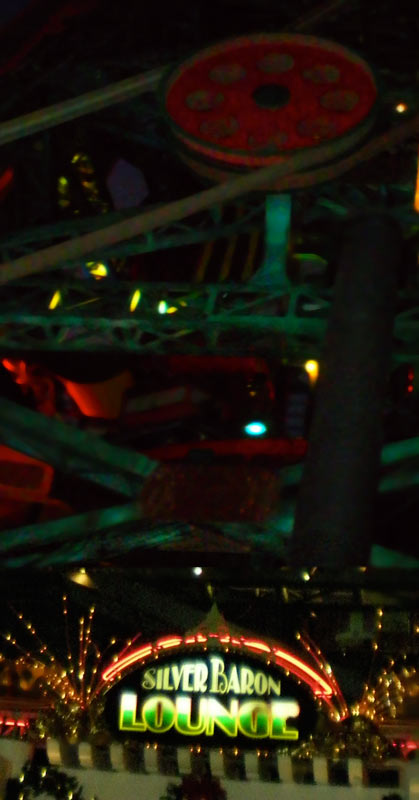 It may be Christmas, but the Silver Baron and all the dozens of other casinos in Reno, Nevada, are wide open for business. Nevada wouldn't be Nevada if people fretted over the propriety of parting fools from their money on Christmas or any other day.

But last weekend, with Christmas travel already in full swing, Reno looked almost lifeless by day and barely half-alive at night. As industries go, gambling must be somewhat recession-proof, but it takes money to get to Reno and to stay in the hotels there, so these days gamblers may be doing more of their gambling closer to home. I don't know if that's the explanation; maybe it's a trendiness thing, with Reno seriously losing out to Vegas. Whatever, the town is not flourishing.

Many of the casinos in Reno, including the Silver Baron, are partly or entirely underground, occupying land excavated more than a hundred years ago, back when Nevadans sought their silver deep in the ground rather than in the pockets of tourists. Silver-mining is the architectural motif of the town. Above the Silver Baron is a dome filled with fake mining machinery. Near the dome is a concert hall, where the Doobie Brothers will be playing for New Year's Eve.

Allen and his teammates from the Naval Academy wrestled in a tournament in Reno last Sunday. Their performance overall was disappointing, and the coaches got so annoyed they were yelling even when the Midshipmen won their matches. Afterwards, Allen treated me to a little blackjack in one of the casinos, and my performance would have been extremely disappointing were it not so completely predictable.
Reno
gambling
Nevada
wrestling tournament
casino
silver mining
(Image credit: Ellen Stein)