Aug 11, 2009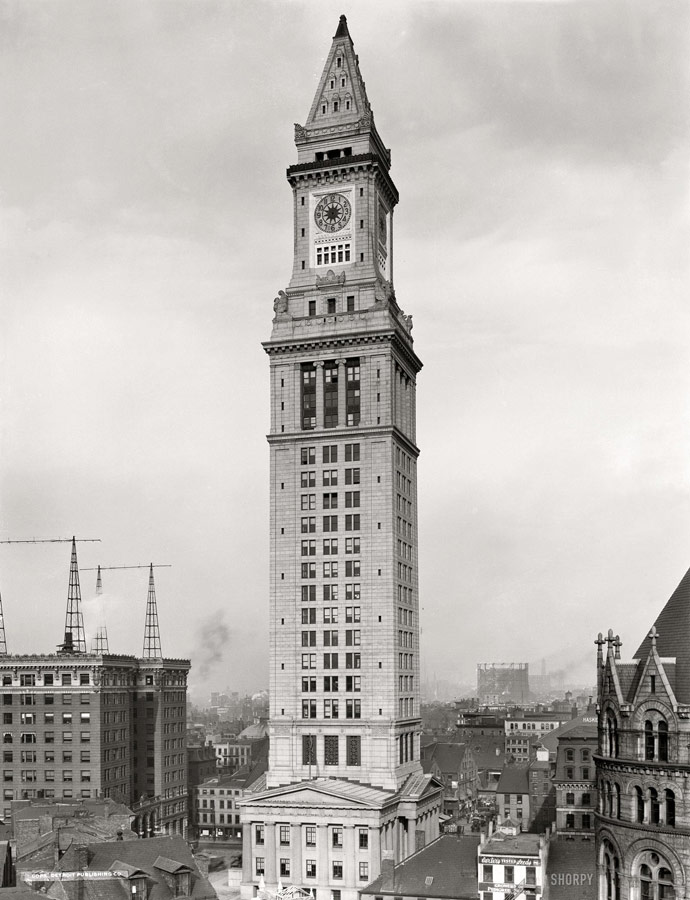 When the Custom House tower opened in 1913, tthe zoning code for the city of Boston limited building height to 125 feet. Because the Custom House was a federal installation, it could flat-out ignore the restriction; this tower is 496 feet high, making it the tallest building in Boston until 1964. The exterior is essentially unchanged to this day, though the interior has been drastically redesigned. It's now a time-share condo complex operated by Marriott.

Underneath the tower is a large Doric temple built in 1847, an imposintg structure that housed the warehouses and regional financial offices of the customs service. Most of the federall government's income in those days came from import levies, so in port cities such as Boston, custom houses were typically the nicest buildings in town.

In this picture, the clocks at the top of the tower have no hands. This is probably because repairs were being attempted; the wooden minute hand was so big and heavy--22 feet long--that the clock mechanism struggled to push it up from the 6 toward the 12, often failing. Until the hands were replaced with plastic a few years ago, the clocks rarely kept good time.


vintage
cityscape
Boston
Massachusetts
tower
(Image credit, Library of Congress, via Shorpy)