Sep 7, 2013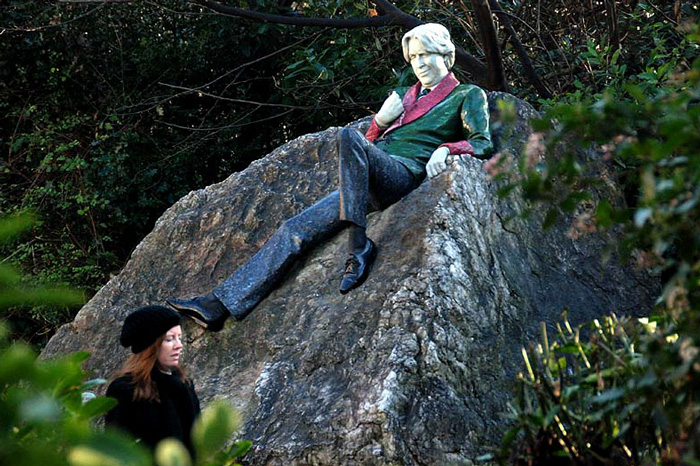 It must have been Oscar Wilde who said that you could never be overdressed or overeducated. In fact, he may be saying it just now, as he contemplates the world outside his childhood home in Dublin's Merrion Square, dressed to the nines from the neck down and wearing a becoming shade of snark across his face.
Sculptor Danny Osborne was as much prospector as artist for this project. He found the jade for Wilde's smoking jacket in extreme northern British Columbia, near the Yukon border. The pink collar and cuffs are from manganese-rich veins of zoisite in Norwegian shale.
The shimmery trousers are larkivite, also from Norway, a coarse-grained rock rich in anorthoclase feldspar, mined in Oslo Fjord. The well-polished shoes are black charnockite, from southern India; they get their shine from a distinctive kind of pyroxene known as hypersthene.
The 35-ton boulder that Wilde lounges on is Irish, but it's not in situ; Osborne found it in the Wicklow Mountains outside of Dublin.
The statue was sponsored by the Guinness Ireland Group and dedicated in 1997, ninety-seven years after Wilde's death at age 46.
It seemed appropriate, even necessary, to end this posting with a Wildeism. Settling on a single passage, however, proved ridiculously difficult, and it is certainly unfair to the man to reduce him to well-dressed witticism. But this line may do as well as any: "Every saint has a past, and every sinner has a future."
Or this: "Being natural is simply a pose."
geology
art
rocks
sculpture
Oscar Wilde
Dublin
Danny Osborne
(h/t: Janet Goldwater)