Apr 17, 2012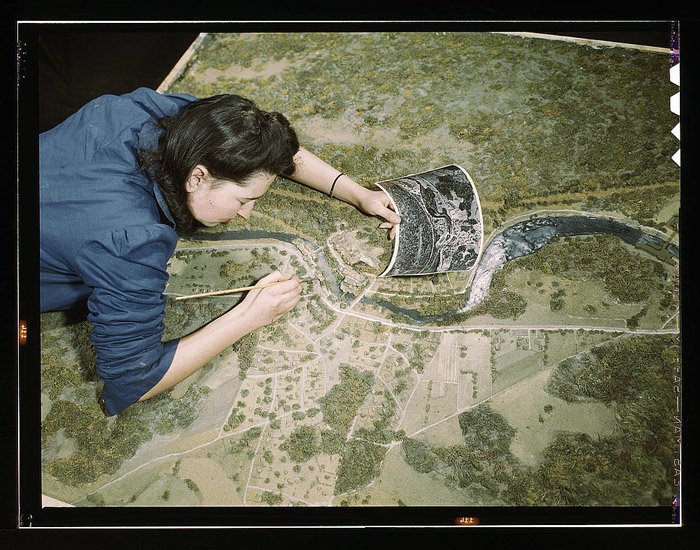 Another sample from the Library of Congress's small collection of color photos from the 1930s and 1940s, this one shows a woman working with aerial photos to develop camouflaging for airfields and critical factories during World War II.
Camouflage experts at New York University would use the aerial photos to build a model of an area that included the facility to be camouflaged. Then they would paint over the facility on the model until it blended in with its surroundings. Aircraft plants on the West Coast were covered with acres of canvas and plywood painted and sculpted to resemble suburban subdivisions. Airstrips were painted to look like small-town streets and farmland from the air.
Not everything was so easy to camouflage; ships at sea, for example, proved impossible to hide no matter how they were painted. A completely different approach, known as dazzle camouflage, was devised for ships; they were painted with crazy stripes at jagged angles, visible from afar but very different to interpret as to size, direction, and speed of movement.
Some fighter planes were painted pale pink, a color that was thought to show up as white or grayish, like clouds, at high angles of intense sunlight.
This photo looks posed, and the woman may be a model rather than a serious camouflage authority; she is holding the aerial photo more or less upside down with respect to the model she's supposedly painting.
art
World War II
1942
camouflage
New York University
(Image credit: Office of War Information)