Cardboard Cathedral
Jan 13, 2014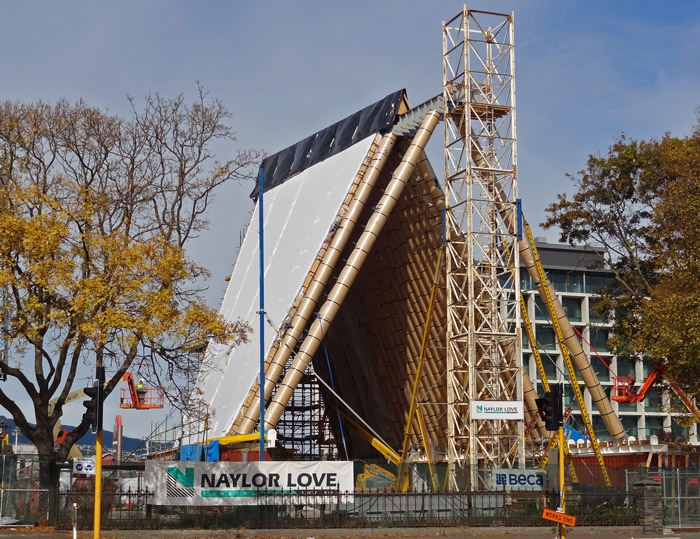 Before the earthquake, Christchurch had two cathedrals: the Gothic-style Anglican Christ Church Cathedral on the city's central square and the Italianate Roman Catholic Cathedral of the Blessed Sacrament nearby. Both were ruined in the quake.
In the aftermath of the quake, both the Anglican and the Catholic establishments became notably secretive about their plans for rebuilding and/or repair. The Anglicans were sued over insurance payouts and municipal maintenance funds. The Catholics spirited away all the decorative elements and artwork from their cathedral and hid everything at a still-undisclosed location.
Both cathedrals sit in ruins today, not yet demolished, propped up by flying buttresses made of steel I-beams and stacks of shipping containers filled with concrete.
Meanwhile, the Anglicans have built a new cathedral, allegedly for temporary use, on the site of a nearby church that was also destroyed in the earthquake. The new cathedral, with its cardboard-tube roof beams, was designed pro bono by Japanese architect Shigeru Ban, who has achieved worldwide acclaim for his post-disaster structures, many of which are built from inexpensive and readily available materials, including paper, cardboard, plastic crates, and shipping containers.
The new Cardboard Cathedral opened last August. It can hold 700 people for church services and also serves as public meeting space.
New Zealand
architecture
earthquake
church
Christchurch
Shigeru Ban