Dec 23, 2009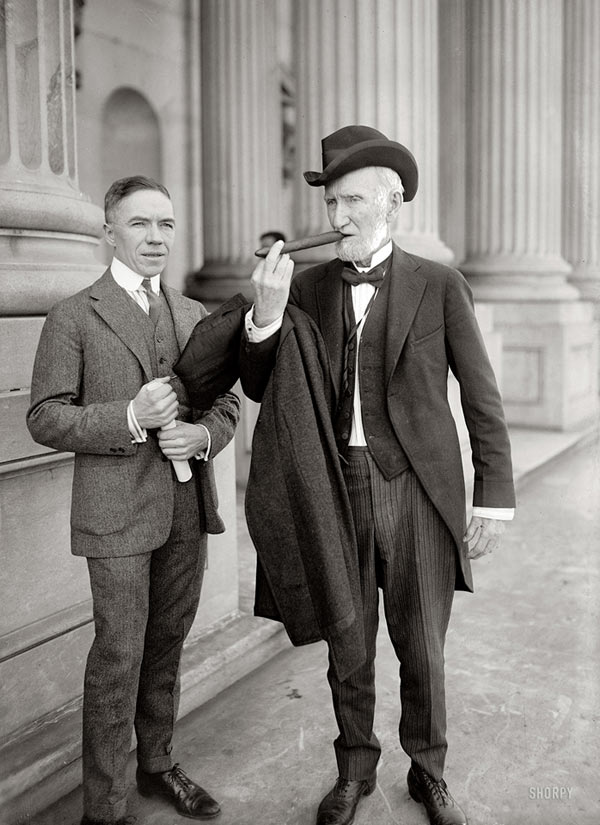 That would be Joseph "Uncle Joe" Cannon, a.k.a. "Foul-mouth Joe," the gentleman from Illinois with the really big cigar. Here he poses in 1922 with Rep. Vincent Brennan of Michigan. Speaker Cannon retired the next year, after representing Illinois in the House, with a couple of interruptions, since 1872, and serving as Speaker of the House from 1903 to 1911. Brennan also retired in 1923, after representing Michigan without distinction for two years.

Foul-mouth Joe's personal history in politics went back all the way to supporting Abraham Lincoln for president. As the cigar suggests, his political style was that of the smoke-filled room and his ideological beliefs were old-school through and through. Twentieth-century populism was nonsensical in his eyes; "I am goddamned tired of listening to all this babble for reform," he once said. "America is a hell of a success."

And turn-of-the-century reformers, notably Theodore Roosevelt, had gone way too far, according to Cannon: "Roosevelt has no more use for the Constitution than a tomcat has for a marriage license."

His political skills and rhetorical flourishes are memorialized on Capitol Hill to this day; the Cannon House Office Building is named after him. And Time magazine put him on the cover of its very first issue in 1923.

But nobody in Congress dresses with such distinction any more.
Joseph Cannon
Vincent Brennan
U.S. House of Representatives
smoke-filled room
cigar
politics
(Image credit: Nat'l Photo Co., via Shorpy)