Feb 9, 2017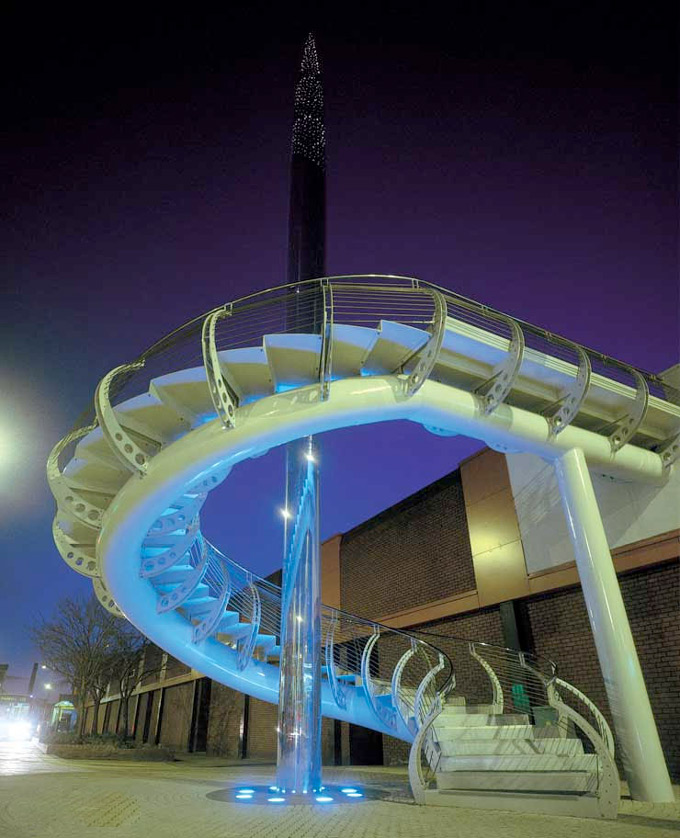 In 1986, the stairwell in this parking garage that connected the rooftop parking deck with the shopping streets alongside the garage was permanently locked. The problem, according to the St. Helens Reporter, the local newspaper, was "continued vandalism and anti-social behaviour."
Twenty years later, in 2006, the new staircase shown above was opened, spiraling around a polished steel "millennium needle" standing 20 meters high. The Reporter called it a "pole." The project, according to the Reporter, added an expensive "feature" of questionable value to the downtown area.
Downtown St. Helens, in the north of England east of Liverpool, hadn't had much in the way of expensive features for many years. A bustling mining and manufacturing center in the nineteenth century, it was rusting away of late, with only one factory remaining and a population of about 100,000. The whole region was depressed.
Google "St. Helens needle" and you come up with lots of stories about drug use and street crime, including one about a four-year-old child who had to go to the hospital after stepping on a hypodermic needle on her way home from the park.
Nevertheless, St. Helens city fathers put money into sprucing up the central shopping district, and some gentrification did in fact ensue. Several high-end restaurants moved into empty storefronts near the train station.
And eventually, there was pressure to reconnect the old parking garage more conveniently to the new "George Street Quarter." The needle was the result.
Like any good needle, it has a hole–many piercings, in fact, for lighting up near the point. But a real needle has its hole near the blunt end. This one is what it is.
For whatever it's worth, we note that this is actually the second Good Morning post about parking garages and European urban renewal. It happened in Skopje. And now in St. Helens.
sculpture
England
stairs
parking garage
urban renewal
St. Helens
(Image credit: Photogenics)