Aug 12, 2014
Next week, for the first time in Little League history, a team of 12- and 13-year-olds from the city of Philadelphia will be playing in the World Series in Williamsport, PA.
They are our Taney Dragons, who play at Taney Field in our neighborhood's Schuylkill River Park. To wangle an invitation to the big dance, the Dragons had to pull off a string of upsets, becoming the first Philly team ever to win districts, to win regionals, to win states, and then last week to win the Mid-Atlantic championship.
The way Little League works, it's almost always the well-funded suburban operations that come away with the postseason prizes. Taney had to raise money all year long to go out for these tournaments; they scrounged for practice fields all over the city, sometimes using a hangar out by the airport. Many of the parents can't afford to travel to watch their kids play, but they managed to raise $20,000 in a few days to send the team to Connecticut for the Mid-Atlantic tournament.
The Dragons' victory in Connecticut was a stunner; they dispatched Newark, Delaware, last year's Mid-Atlantic champions, 8-0. Their bats were hot, obviously, but their pitching was pretty much the same as always: a cool clinic of 70-mile-an-hour fastballs and heartbreaking curveballs, a shutout with just three hits allowed by the Dragons' star Mo'Ne Davis, who will be the only girl this year in the Little League World Series.
Although Little League has permitted girls to play since it was forced to by the courts in 1974, Davis is still a rarity. She says she has never pitched to a girl batter. But baseball is not really her passion; that would be basketball, her favorite sport. Her dream is to play in the WNBA.
Meanwhile, she's the Dragon who gets all the attention, which may be a good thing since she's unflappable, never discouraged or distracted, nothing at all like a typical 13-year-old. It's the boys on the team who crank up the drama, along with the energy level.
Tune in on August 15 on national TV for the Dragons' first World Series contest, against a team from South Nashville, Tennessee.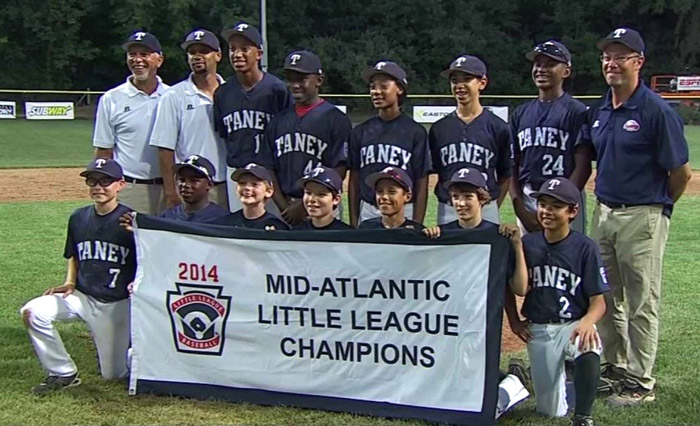 sports
baseball
neighborhood
Philly
Mo'Ne Davis
Taney
Little League