Jan 6, 2018
In the wintry weather currently gripping eastern North America, icy mounds of frozen spray, known as sugarloaves, are growing huge atop frozen rivers below not-quite-fully-frozen waterfalls. There's a sugarloaf at the base of Niagara Falls this year, and also one at Montmorency Falls near Québec City; the falls at Montmorency are some 98 feet higher than Niagara and are located almost a thousand kilometers to the northeast, in a climate zone where every winter is plenty cold enough to make a sugarloaf.
The painting shown above, The Ice Cone, by Robert Clow Todd, shows Montmorency Falls and its sugarloaf in the winter of 1845. The place looked pretty much the same when we visited, in the winter of 2004, minus the horses, of course.
Tall, cone-shaped things with slightly blunted tips are often called sugarloaves, especially if they are ski resorts or a mountain in Rio de Janeiro with a statue on top. That's because real, old-school sugarloaves–actual hard, solid loaves of refined sugar–were produced in molds shaped like that. Up until the end of the nineteenth century, when manufacturing processes emerged to refine sugar into a granulated product, people who could afford to buy white sugar–meaning rich people–bought it by the loaf, which might weigh as much as 30 or 35 pounds. They chipped off pieces as needed, using heavy, sharp-edged pliers known as sugar nips.
The sugarloaves pictured below are on display in the Sugar Museum in Berlin.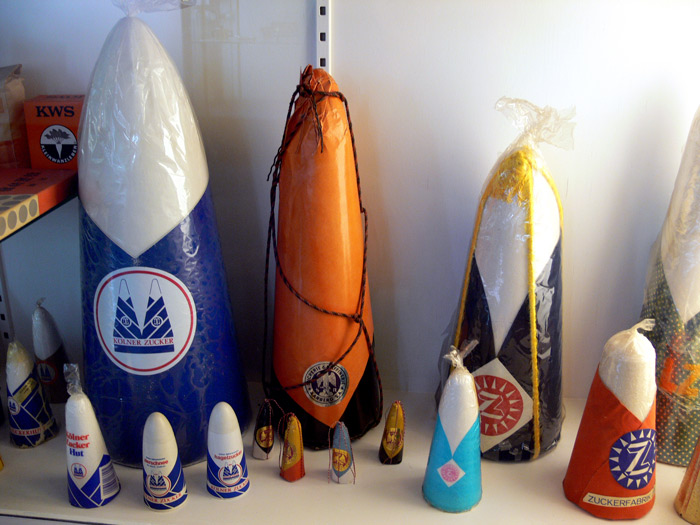 landscape
Canada
winter
snow
ice
Berlin
waterfall
Quebec
sugar
Montmorency Falls
Sugar Museum
(Art by Robert Clow Todd)