Jan 29, 2015
When last we spent our Saturdays at high school wrestling tournaments, back in the decade of the twenty-oughts, we were parents of wrestlers, which meant that we were working the concession stand or down on our knees with a camcorder or scanning the scene from the bleachers, looking for indications of wrestling drama.
We can report with confidence that in the winter of 2015, all the drama is still much in evidence. Even before you enter the gym, you can't help but notice the kid standing all by himself out in the cold parking lot, hiding his face, struggling not to cry.
The only big difference nowadays is that somehow, magically, our wrestlers from way back then have returned to this scene as what might be called wrestling facilitators. One of them is now a referee with striped shirt and whistle, and another is an assistant assistant coach, a guy who sits in the corner of the mat during each bout and yells, "Circle! Circle! Good–keep that elbow. That's all right, don't worry, now up and out!"
High school wrestling matches last six minutes, except when they're over in a few seconds. That can happen when a newbie, with panic in his eyes, is up against an experienced wrestler who knows a few moves. Of course it can also happen when an experienced wrestler underestimates an opponent, or when he forgets for an instant to do or not do something critical that he knew perfectly well he was supposed to do or not do.
The drama actually begins before the wrestling even starts. Kids wearing hoodies pace back and forth in front of the bleachers, headphones clamped on their ears, eyes focused in some alternate universe. They're trying to psych themselves up, or calm themselves down, or both.
By the time they strip off the hoodie and walk out to the center of the mat, some of them already look destined to lose. They've heard something about their opponent that scares them, or they just know from lessons learned the hard way that their performance will likely be disappointing. They may surprise themselves, they really may win, but their posture and eye movements are already broadcasting what they figure are the dismal odds against them.
Other kids work hard before the match at presenting body language that says something different: "I'm the man," or "You're dirt," or "I will break you." They're swaggering out there, playing the part in the script that they want for themselves; maybe it will work, maybe it will backfire, maybe it won't matter at all. But there's no wrestling without broad drama.
From the stands, kids cheer on their teammates and yell at them to shoot. They talk smack with each other and steal each other's drinks and snacks and pretend not to give them back. Some of them are smartasses. Some are trying to nap. They're high school kids, and it's a Saturday.
And on display in the gym are adolescent bodies of every imaginable size and shape, all looking at least a little bit goofy in those singlets. There are little guys with twigs for limbs, and thick-necked muscle-bound jocks, and mountainous heavyweights with serious guts and no necks at all. No other high school forum welcomes all these physical specimens, offers them all a chance, however slight a chance, to be a hero.
Among the hundreds of boys are a few girls. During our years as wrestling parents in Maine, there were girls on some of the teams, and they wrestled boys, occasionally with some success. This year in western Washington, girls appear to be a bit more numerous on the mats, and they wrestle one another.
We attended the Marysville Premier tournament, in the company of the Blazers from Timberline High School in Lacey, Washington. Four girls wrestle for the Blazers, alongside a couple of dozen boys. They all wear black singlets unless they make it to the tournament finals, when they dress in special gold singlets decorated with a double-bladed axe, their school logo.
Three Blazers wore gold in Marysville, and one of the three won his final match to claim the tournament championship at his weight class. The next week, at the Jaguar Invitational tournament in Puyallup, four Blazers took championships, and in the 126-pound weight class, the two wrestlers in the finals were both Blazers.
The regular season is winding down now, leading up to regionals and then states. Go Blazers! Shoot! Shoot!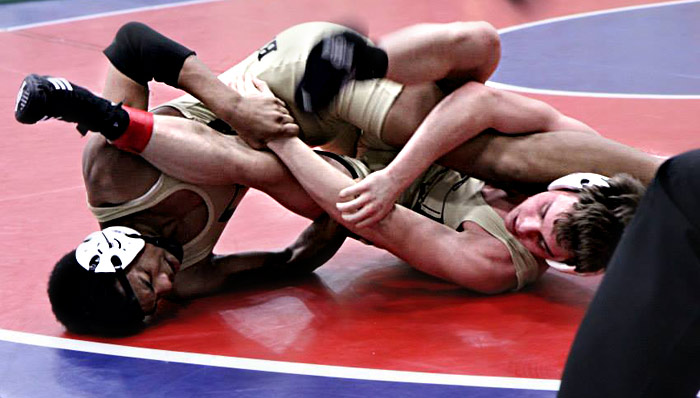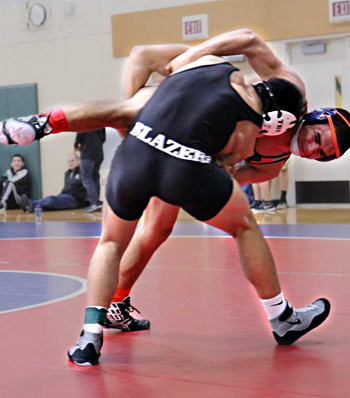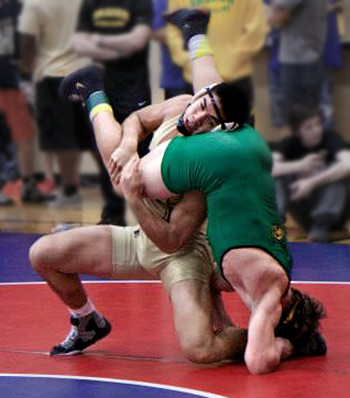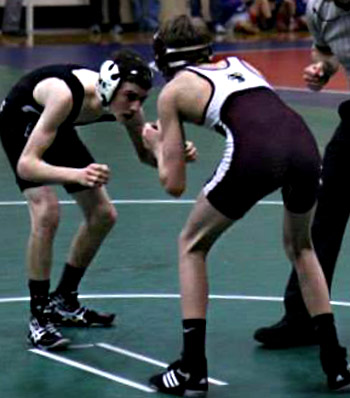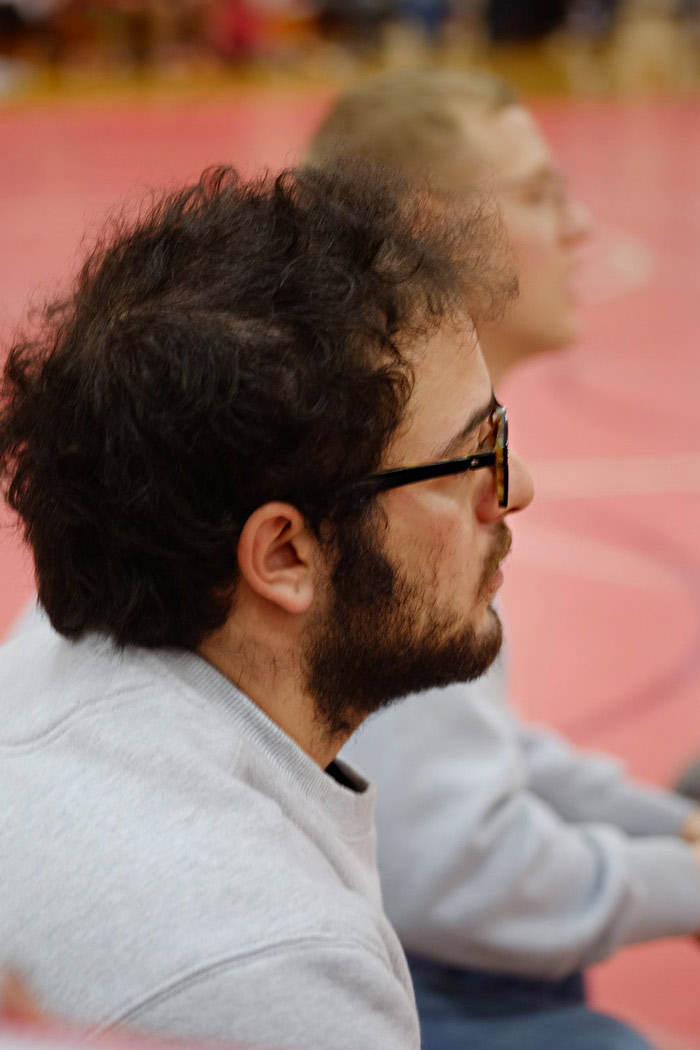 sports
Washington
wrestling
gym
Marysville-Pilchuck High School
singlets
Timberline High School
Marc Julagay
Fuji T)
(Image credits: Hank Stein