Feb 9, 2012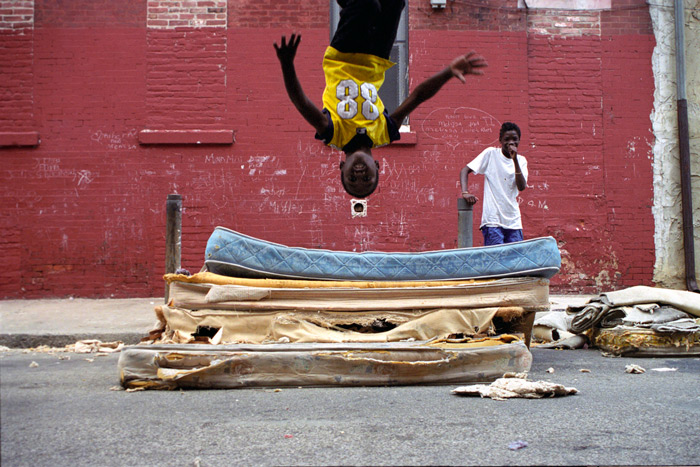 It was a way to spend a summer afternoon in South Philly in 2001, doing flips off a pile of discarded old mattresses. The photographer who happened by, Zoe Strauss, originally stopped to caution the boys: Don't do that. You're gonna kill yourselves. They told her not to worry and offered to do even more daredevilish stunts for her camera. She snapped a few pictures and then took off, anxious, perhaps, that her picture-taking might be upping the danger level.
The boy in the back in this photo, Lawrence Edward Rose, Jr., has his hand in front of his face, as if in astonishment at what the other boy, his cousin Botie, was up to. Actually, his fist was at his mouth because he was sucking his thumb; he was thirteen years old that summer, but he was a shy, quiet boy who continued to suck his thumb till he was seventeen.
The summer he turned nineteen, six years almost to the day after the mattress flipping, he died from complications of gunshot wounds suffered in a gang fight at a corner store a few blocks from where those mattresses had been piled. His mother had feared for her timid boy who smiled at everybody and still sucked his thumb as a teenager; to keep him off the streets, she had enrolled him in every program she could find, even sending him to two different boarding schools. But it seemed he was a homebody who wasn't comfortable away from his family and his neighborhood, and in July 2007, the street claimed him.
The photo had a life of its own. Zoe Strauss made several prints, which she exhibited at a show she mounted every year underneath an I-95 interchange in South Philly. Under the highway, the prints sold for $5. Later, she printed larger versions on fancy paper for a New York gallery that sold them for $3,000. More recently, a billboard-sized print of the mattress flip has hung over the main entrance to the Philadelphia Museum of Art, announcing a mid-career retrospective show of Strauss's work.
It's also part of the cover design of an ABC picture book published by the Philadelphia Museum of Art, which is how librarian Sa'ddiya Suku came across it last year at a branch library in West Philly. She didn't know the children in the scene, but she had grown up at the corner where the picture was shot, and she recognized the red-painted brick wall behind the mattresses. And then she recognized the thumb-sucking child standing near the wall, from pictures she'd seen and stories she'd heard after his death.
Suku showed the picture to Rose's family; they were thrilled, she said, to learn that the boy was part of history. He's gone, but he lives on; the photo is about nothing so much as the joy of being young and alive.
cityscape
streetscape
boys
South Philly
Lawrence Edward Rose Jr.
flip
Sa'ddiya Suku
(Image credit: Zoe Strauss)