Nov 20, 2009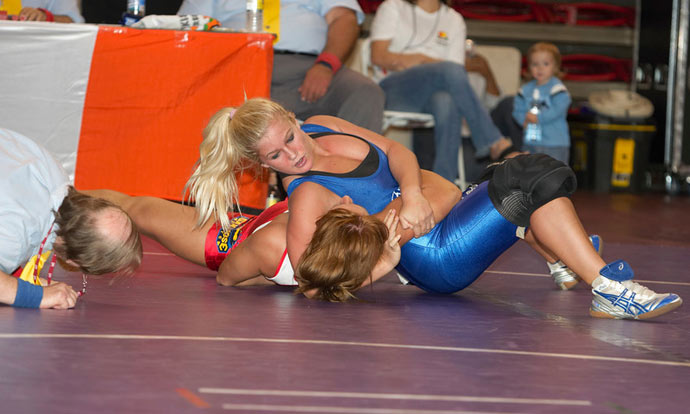 If this is November, then wrestling season must be upon us.

Instead of embarrassing my children and boring my kind readers with snapshots from sweaty school gymnasiums, I thought I'd introduce the season with a glimpse of women's wrestling, the newest Olympic sport.

The wrestler in blue, who appears to be on the verge of pinning her opponent in this 2006 match, is Deanna Rix, from South Berwick, Maine. In 2005, Rix almost made high school sports history, by coming within a few seconds in double overtime of winning a state wrestling championship against boys. Since then, she has been training at the New York Athletic Club and Olympic Training Center, supporting herself by waitressing at Hooters. She currently is the top-ranked American woman in her weight class (59 kg) and recently placed fifth at the world championship.

She may have trouble qualifying for the Olympics, however, because there are only four women's weight classes, and her fighting weight falls midway between two classes.

On the college level, women's wrestling has suddenly become popular; it is probably the fastest growing intercollegiate sport. Ten years ago, there were no women's wrestling teams; now there are more than 30. About half are "folkstyle" programs, following the same rules as men's high school and college wrestling in the United States; the other half wrestle "freestyle," using international rules. Although many of the women's programs offer athletic scholarships, quite a few, especially at small colleges, were introduced specifically in hopes of recruiting another dozen or so tuition-paying students.
Title IX has played a curious role in all this; for years, men's college wrestling has been in decline, with schools cutting programs, claiming that they needed to put more resources into women's sports, such as field hockey or gymnastics. Nowadays, some schools are finding they can revive men's wrestling by starting a women's team as well; MIT is one of the universities following this route. So far, the regrowth in men's college wrestling is concentrated in Division II and III schools, not at the top competitive level.
sports
wrestling
Deanna Rix