Apr 9, 2014
You may be surprised to realize just how few degrees of separation there are between you, sitting wherever you are sitting, squinting at these words on your screen, and a live chicken riding quietly in an overcrowded minibus along the bad, rutted roads of north central Zambia.
Not only that, there's a lot more to the connection between you and that chicken than dinner on a plate.
We could say the relationship weaves across oceans, connecting family, work, school, friendship, culture, hospitality, and a whole lot else.
It goes like this: a young Zambian man named Chungu Mwila left his home and family to come to America, where he is now a student at the University of Southern Maine in Portland. A friend of his in Maine, Alain Nkulu, is also a friend and colleague of Sue Stein, who works at Portland's Waynflete School with foreign-born students, immigrants and refugees from many countries in Africa and other distant lands.
Now it just so happens that Sue Stein is a friend of these Good Mornings, as well as, um, a Stein and a Mainer, so there you are. And as of this writing, she is in Africa herself, visiting the homelands, friends, and families of many of her students and former students.
Before Sue left Maine for her travels, after Alain Nkulu had put her in touch with Chungu Mwila, Chungu provided her with contact information for his sister Yvonne, who still lived in Zambia, in the Matero district of Lusaka, the capital city.
In Lusaka last month, Sue looked up Yvonne, and the two of them decided to become traveling buddies for a bus trip into Zambia's Copperbelt region, some 370 kilometers north of the capital, near the border of the Democratic Republic of Congo. They planned two stops in the Copperbelt: first, to visit Yvonne and Chungu's Uncle Charles and Aunt Bana Mpundu, who live in the bush outside the town of Kalulushi, and then to drop in on Yvonne's 18-year-old daughter, Loveness, who attends Chikola Secondary School in Chingola, another 50 kilometers down the road.
Uncle Charles and Aunt Bana grow their own lemons and mangoes and, of course, raise their own chickens. They make their own rope, from the fibers of tree bark. For the last twenty years, ever since Charles was laid off from the mines with just enough severance pay to pay off their hut, they've had to scrape by with no money at all, except from occasional sales of fruit and vegetables.
Nonetheless, when it came time for Yvonne and Sue to press onward with preparations for the continuation of their journey, Sue noticed that Aunt Bana had caught one of her chickens. Communication was limited, but she was pretty sure that Bana referred to it as "your chicken."
Even so, it was not until Yvonne and Sue were waiting at the bus stop–a store in Kalulushi–that Sue first realized Yvonne was carrying the chicken, which had plastic bags tied around its rear end.
"Just you wait, Sue," her students had told her back in Maine. "Wait till you are on those buses with people bringing all those animals."
And there she was, in Kalulushi, Zambia, getting on a bus­–a minivan, actually, the usual kind of vehicle–way overcrowded with people and luggage and a single chicken. Just one chicken, and it was hers and Yvonne's; she had herself become exactly the person her students had told her she'd find in Africa.
The chicken was very well-behaved, Sue reports, quiet and still through two bus rides. The plastic "diaper" served its purpose.
They eventually handed the chicken over to a woman named Sharon, in whose house Yvonne's daughter Loveness was living while at school. Sharon set the bird down on the floor in a corner, where it rested quietly, its feet tied together.
They spent the afternoon at Loveness's school, then returned to Sharon's house, where the chicken was still there on the floor, not doing much of anything. "At times I thought it was dead," says Sue. "Nobody was paying it any attention at all."
They ate dinner. Loveness and her friends danced for the guests. Finally, around 9 o'clock at night, Sharon picked up a knife and the chicken. Sue caught her eye and gestured with a finger across her throat. Is that what's about to happen? Sharon smiled.
She came back inside with a headless chicken.
"She had been at work all day, and then taking care of her baby," Sue says. "And she was still wearing what even my daughters would call stylish clothes." There was water boiling on the charcoal brazier; her 18-month-old son Junior was toddling in and out, between her legs and the coals and the boiling water.
Sharon dipped the chicken in the pot, pulled it out, and spent the next hour plucking its feathers.
And Sue got back on the bus, headed back to Lusaka and then on to Rwanda and Burundi. In Burundi, she reports, they have zumba classes.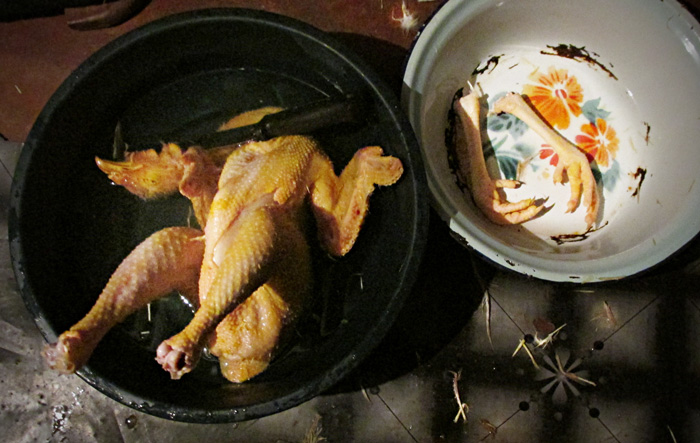 chicken
Maine
Zambia
Kalulushi
Chingola
bus
Copperbelt
Lukasa
(Image credits: Sue Wuchter Stein)