Jan 24, 2015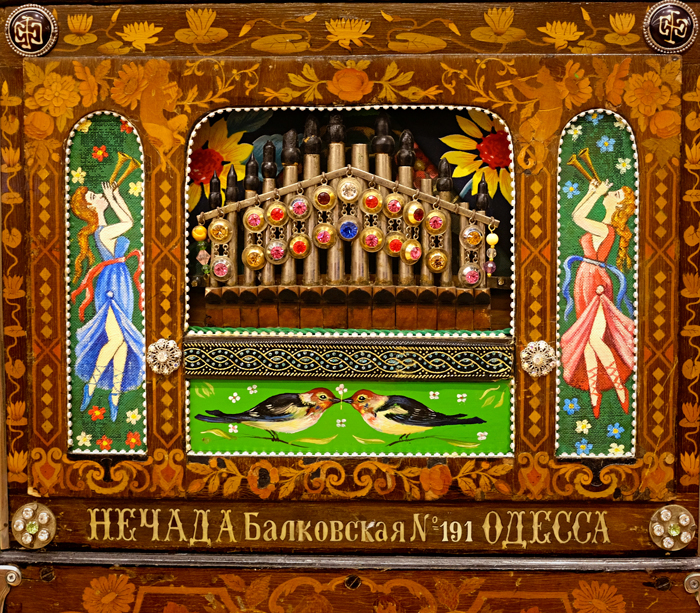 This is the front panel of a Nechada barrel organ, made in Odessa, Ukraine, in the early years of the twentieth century. It was often set up in the street outside a bar or brothel, in hopes that the popular tunes it blasted out would draw a crowd of potential customers. Sometimes, of course, the organ grinder had a monkey as an added attraction, or a troupe of very young girls, perhaps eight or ten years old, who danced and sang and turned cartwheels to entertain the drunks.
Odessa was home to a number of piano manufacturers, who made these organs as a sideline. No musical skill was required to operate them; the organ grinder just turned the crank on one side of the box, which pumped air through the organ pipes and also spun rolls of paper that had been pre-programmed with the desired musical compositions. The paper blocked air from entering the pipes except where holes had been punched; when a hole in the paper came in line with the opening to a pipe of the desired pitch, air was forced through the pipe, generating each note of a song.
Odessa street organs, called sharmankas, were sold throughout the Russian empire from about 1860 until they began to be replaced by more modern music machines, notably record players, in the 1920s. Even then, they remained in use by street buskers, particularly in Tbilisi and other Georgian cities, where street organs were popular well into the 1960s.
The inscription across the bottom of this organ gives the name and address of its maker. Ivan Viktorovich Nechada worked out of a piano factory on Balskovskaya Street, now Isaac Babel Street, in Odessa. This organ is in the collection of the new Musical Instrument Museum in Phoenix, Arizona, but recently a very similar Nechada organ, said to be in perfect working order, was advertised in Moscow; "May be sold or exchanged for a car," wrote the seller, in an ad in Mechanical Music Digest.
music
Ukraine
Odessa
Musical Instrument Museum
Arizona
mechanical organ
Phoenix
organ
(Image credit: Fuji T)