Mom and Pop
Mar 15, 2010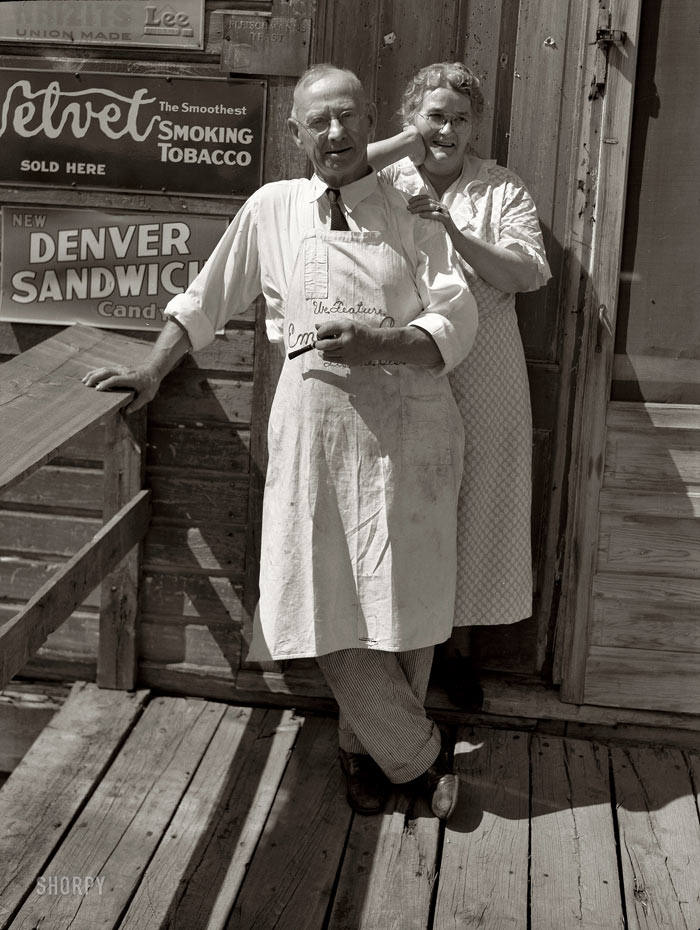 The little country store in northern Minnesota that Mom and Pop were keeping in 1937, when photographer Russell Lee happened by for the Farm Security Administration, was once a big and bustling emporium. Back in 1910, it had employed eight clerks, plus a butcher and a bookeeper. But in 1923, the nearby iron mine closed, and the Vermilion Range mining town known as Section 30 quickly became a ghost town, as weather-beaten and empty as Cripple Creek and the other more famous ghost towns out west.
When this photo was taken, the mine had been closed and the town abandoned for fifteen years. The photographer noted that the town of Section 30 was "bust." How, then, are Mom and Pop getting by? The store building is being kept up, the storekeepers are eating somehow. They look cheerful and relaxed, not at all like the haunted, haggard figures in so many Depression-era images.
I don't really know the answer. There were seasonal logging camps in the Section 30 area, but they were probably too isolated to reliably support even a little crossroads store. No new economic activity ever sprang up to replace the old mine; today, there's nothing but woods in that neck of the woods, plus some rusted old mining machinery.
Iron ore was identified in Section 30 back in the 1880s. Two groups of men tried to claim the property and mineral rights, using two different strategies to get title to the land. One group went to the nearest courthouse, in Duluth, and bought the land with "Sioux half-breed scrip"--currency issued to Indians for land transactions with the government; the men had bought the scrip from Indians who had nothing to do with the land. A second group of men filed homesteading claims on the land and built houses there to prove up their claims. The two groups sued one another, and to pay for the lawsuits, they had to bring in extra partners, including an ex-congressman. The competing claims dragged through the courts until 1902, when the Supreme Court ruled in favor of the Indian-scrip group (which included the ex-congressman); the homesteaders' claim was invalidated because homesteaders are not allowed to sign contracts conveying partial ownership of the land until their claims are proven up, even though such contracts had been necessary in order to defend the claims in court.
The mine turned out to be even richer than anticipated; the motherlode was just eight feet below the surface. Active mining began in 1903, and the town of Section 30 filled up overnight. Twenty years later, the boom went bust, yet fifteen years into the bust, here are Mom and Pop making a living and a life, somehow, in Section 30.
Minnesota
Section 30
Vermilion Range
1937
store
(Image credit: Russell Lee, FSA)