All This and Top Value Stamps
Nov 12, 2014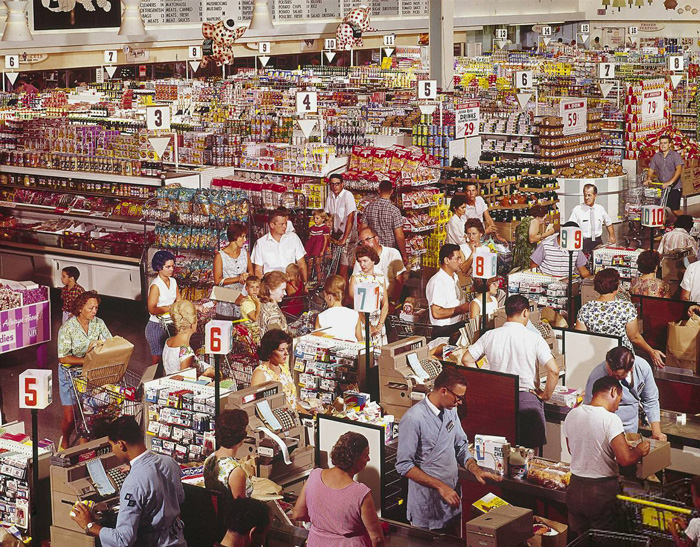 On this date in 1962, as the ad below announces, this store in Rockville, Maryland, first opened its doors. It was called a Super Giant; it was the world's first Super Giant, and it was my Super Giant.
It was a supermarket, of course, and also a department store, selling raincoats and tennis rackets and desk lamps and windshield wiper blades as well as produce and candy and cigarettes. In other words, it was a WalMart before its time, and people came from all over, even from across the river in Virginia, to check it out.
Like any ordinary non-super supermarket in our regional Giant chain, it had those plaid plastic inflatable elephants up near the ceiling. All the fish on ice in the seafood section still had their heads on them and all their bones inside them, and while you waited for the guy to fillet them, you could watch the lobsters swimming in their tank.
In the produce section, somebody would weigh your produce and bag it in a paper bag and write the price on the bag with a grease pencil. At the register, the cashier would key in every single price–no scanning back then–and calculate your change. There were no credit or debit cards and no ATMs; people paid cash or wrote checks. With a local address, you could write a check for $25 over the purchase price.
Just inside the door was a row of gumball machines and usually a mechanical pony you could ride if you could talk your mother into giving you a nickel, which was not likely.
Just outside the door was the corral where you left your grocery cart–we called it a basket–while you found your car in the parking lot and drove back around to pick up what you'd purchased. A store employee loaded your car for you; he identified which groceries were yours by looking at a number on a plastic card you'd been given, which matched the number on your basket. Printed on those plastic cards, in addition to the number, were the words "No Tipping." Every time I looked at one of those numbered cards, I daydreamed a little about tipping over grocery carts.
But the best thing about Giant food shopping, better even than the Frosted Flakes and the Hostess cupcakes, was what came out of the little brown boxes near the end of each checkout lane. In the picture above, a man is writing a check on top of the box in Lane 7.
Those boxes were stamp dispensers. After your order was rung up, yellow Top Value Stamps would automatically start spitting out of the dispenser. If you'd bought a lot of groceries–the average family of four spent $12 a week on food–then you'd get a lot of stamps.
When you got back home, your mother might let you lick the stamps and stick them onto the pages of the stamp books. There were stamp catalogues showing what you could get for your filled-up stamp books: a picnic set with plastic plates and nubbly plastic glasses, a poker caddy full of wooden chips, a striped beach umbrella.
Try talking your mother into buying stuff like that. You'd be wasting your breath. But with enough yellow Top Value Stamps, all that and more could be yours–for free.
I still have a folding card table that my cousin Toby bought with cigarette stamps, found inside the cellophane wrapper on every single pack of cigarettes. And I knew families growing up that saved green stamps. But we were a Top Value Stamps family, loyal, in the marketing sense of the word, to the Giant Foods chain of stores.
We bought groceries from the Giant store closest to our house. The Super Giant was a few miles away, so we went there mostly for non-food shopping. But that was okay; you could get stamps for socks and underwear, too; you didn't have to be buying food.
With all those stamps, all that loyalty, and the great marketing innovation of WalMart-like one-stop shopping with a "spacious 3,000 car parking area"–well, where have all the Super Giants gone?
They came and went in a flash, arriving in 1962 and closing down within a few years, certainly before 1970, despite drawing huge crowds. The picture above was taken in 1964.
Today at this location on Rockville Pike, there's a regular old non-super Giant grocery store occupying a small part of the building. The rest of the shopping center features an Old Navy, a Sports Authority, and suchlike.
And Top Value Stamps have been replaced by airline miles, credit card points, store cards that give you discounts on gasoline.
Someday, even WalMart will bite the dust. Will that be a good thing? We can't know, I suppose, till we see what takes its place.

Maryland
Rockville
shopping
grocery store
1964
supermarket
(Image credit: Life magazine via Shorpy)