Stone ages
Sep 19, 2009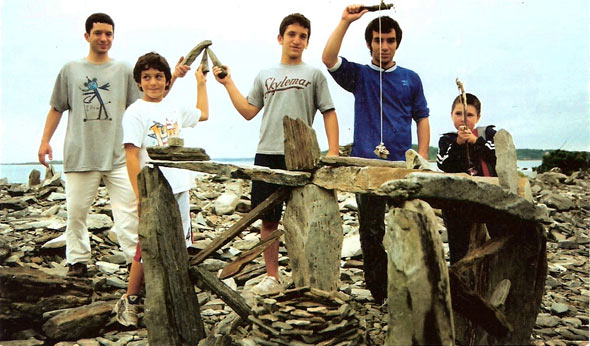 The rocks are 400 million years old, give or take.
The photo is five years old.
The occasion was the birthday gathering on Peaks Island in Maine in honor of Bob Horowitz--my father, and the grandfather of these fellows--who was then 80 years old.
There's one obvious constant through all these years: some of us hominids are hard-wired to build forts and weapons and stuff out of rocks or whatever is close to hand.
Not as obvious, perhaps, but just as constant: some of us are hard-wired to knock down other people's forts and stuff. Hank recalls that he had to rebuild this whole structure all by himself. Had to.
My father will be 85 this next week. He's well beyond the stone age; most days, he aims for the Big Band era.
Left to right: Brothers Ted, Hank, Allen, and Joe Stein, with cousin Nick Horowitz.
Joe Stein
Ted Stein
Maine
Allen Stein
Hank Stein
family
Peaks Island
Nick Horowitz
Bob Horowitz
(Image credit: John Stein)