Coming Attraction
Aug 21, 2012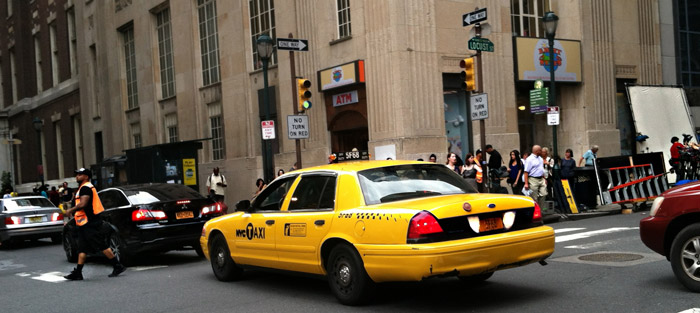 Philadelphia is standing in for New York City this summer during the filming of Paranoia, a thriller starring Harrison Ford and Liam Hemsworth and directed by Robert Luketic (Legally Blonde).
For example: here in Center City Philadelphia, on 16th Street near Locust, is a New York City taxicab, in a line of cars all bearing New York plates. Look closely, and perhaps you can make out the cars' back-up lights all lit up; this line of traffic was in fact moving in reverse, preparing for the filmmakers to take one more take.
A few weeks ago, this same outfit took over the Rittenhouse Square restaurant Twenty Manning for a day of shooting. Our own Joe Stein, who worked there, was told to take the day off but then called in early the next day to help clean up the mess that Hollywood had left behind.
Some of the people in this photo are extras who were supposed to be walking in or around this intersection as the scene was shot and reshot. Others of the people seen here are Philadelphians who just happened by, and who were supposed to be shooed out of camera range. I couldn't tell the two types of people apart, but the bossy folks wearing orange vests seemed very certain who was who. Somebody yelled at me and my mother to get out of the picture, and insulting as that seemed, we left without putting up an argument.
New York
streetscape
Philadelphia
downtown
movie
vehicles