Absolute Marilyn
Aug 18, 2012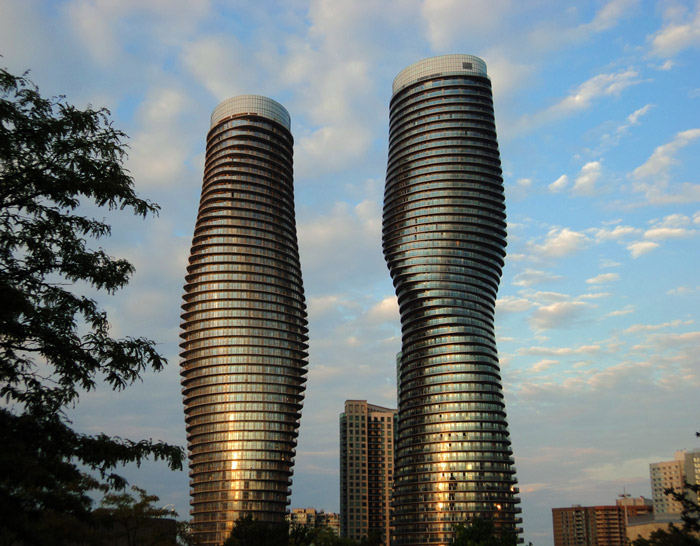 Just west of Toronto, in the fast-growing suburban city of Mississauga, these two condo towers have scratched the sky in flat-out defiance of latter-day suburban trends: they are not boxy, they are not real-estate development disasters, and not a one of their 800-plus condo units is exactly like any other in size or shape.
In 2005, Mississauga's mayor announced an international design competition for a single 54-story tower at the site, to be known as Absolute World. In 2007, the winning architect was announced, chosen by the voting public from among six finalists selected by a panel of Canada's leading architects and planners. The winner was Yasong Ma, of MAD Architectural Design Studio in Beijing. Almost immediately, the spiraling, curvaceous tower was nicknamed Marilyn Monroe.
When condominiums in Marilyn Monroe were offered for pre-construction sale, almost all were under contract within 24 hours. The developers quickly announced a second, companion tower, also spiraling and asymmetric but a bit more buxom, so as to accommodate a few more units. This second tower sold out within about a month.
People began moving into Marilyn Monroe, the righthand tower in this picture, in July 2011. Both towers are now fully occupied. They feature six stories of underground garage space and are located across the street from one of the largest shopping malls in North America.
Canada
cityscape
Ontario
skyscrapers
Marilyn Monroe
towers
Mississauga