Dec 17, 2012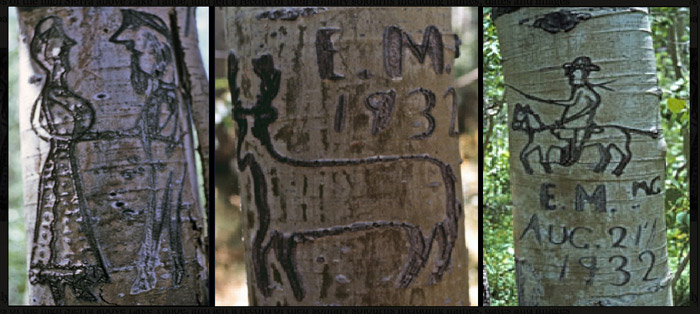 Not Kilroy, actually, but Ygarzabal, and Laxague and Goytia and Ibarriet. The writing on the trees is perfectly clear, if you can read Euskara, the Basque tongue: "Felix Arospide was here in 1897." "Josto Sarria, August 1962."
"Long live the sheepherders," proclaims a tree in Elko County, Nevada, "the ones who can take this place."
Wherever there have been sheep in the mountainous parts of the American West, there have been sheepherders from the Basque country of Europe. And for well over a century now, in the aspen groves at the edges of high country sheep meadows, names and dates and drawings and even poetry have been carved into the aspens, some of the text in Spanish, a little in French, but much in Euskara, a language long forbidden by government officials back home in France and Spain.
Gora Euskadi! read many of the inscriptions. "Long live the Basques."
But a more common carving is Biba ni! "Hooray for me."
And most common of all are sentiments along these lines: "Hooray for the whores of America. Long live the whores of Biscay as well!"
Most Basque shepherds in the United States were not shepherds back in Europe, and Basque people back in Europe did not carve pictures and smutty sayings into the bark of Basque trees. In America, however, the loneliness and tedium of life in the wilderness with sheep led resourceful people to innovate. For example, on a mountainside above Lake Tahoe, at the edge of a meadow with a multi-million-dollar view, a shepherd took his knife to a large aspen and inscribed: "I'm bored and we sheepherders lack a woman."
Aspen trees live no more than about eighty years, and the trees selected for carving were usually large and already mature. Old-style sheepherding ended in America around 1970, so most of the Basque carvings are dead or dying now, falling to the ground and rotting.
"I am not coming back here," says one sun-bleached log near a Montana lake. "Except to fish, maybe."
sheep
Nevada
Sierra Nevadas
Basque
Tahoe
shepherds
herders
aspen
arborglyph
West
carving