Hole in the Clouds
---
Tag: seeds
Feb 11, 2014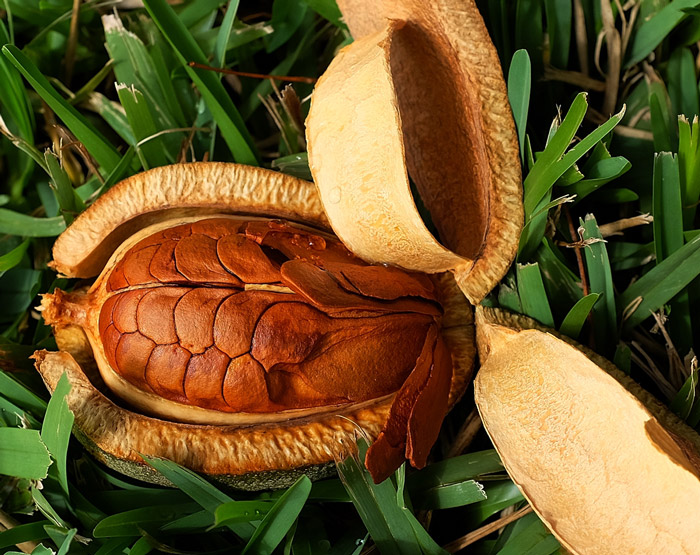 Fruit of the mahogany tree.
tree
fruit
seeds
mahogany
(Image credit: Dave Gore)
Nov 18, 2014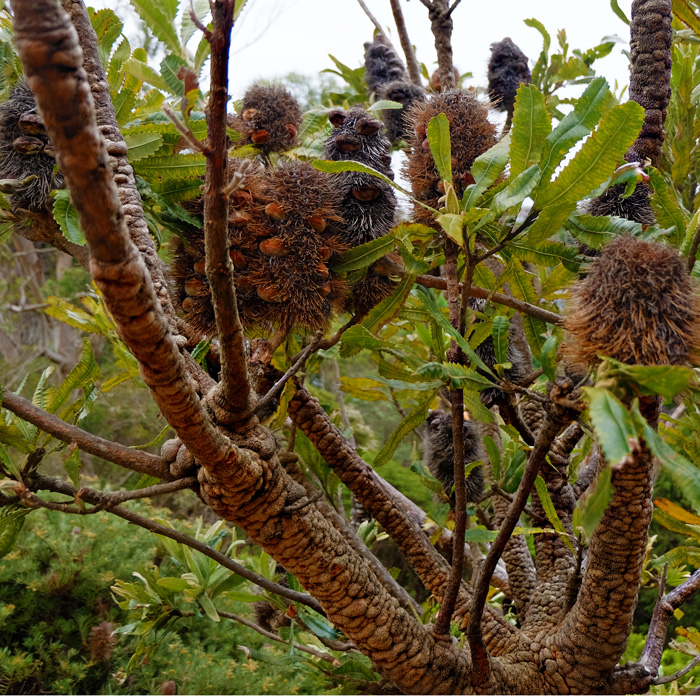 The gnarled little trees called wallum banksia thrive in the sandy heathlands along Australia's east coast, from Queensland down into northern New South Wales around Sydney. Tall spikes of yellow-green flowers linger for months on the branches, drying out and turning brown and then gray; the knobby fruits–seed follicles–may hang on the plant indefinitely, at least until a brush fire sweeps across the countryside, which is something that happens there about every seven to twelve years.
Wallum banksia are not harmed by fire, nor by salt spray or nutrient-starved sandy soil or extended drought. The species has evolved to thrive in extremely harsh conditions, in a habitat which, like the species itself, is known as wallum.
Fire may burn up the leaves and branches, but it also pops open the seed follicles, allowing new little wallum banksia to sprout up all around the old ones. Also, the roots often push up new growth after a fire, helping the species reclaim the territory from other opportunistic seeds that might be trying to spread thereabouts.
The specimen pictured here is not in Australia at all, but in the Australian garden area of Wellington Botanic Gardens in New Zealand. The climate in almost all of New Zealand is cooler and far moister than in most parts of Australia, and wallum banksia does not grow naturally in New Zealand. In fact, it is said that the healthiest, largest, fastest-growing specimens are in dry, sunny, fire-prone locations with poor soil comprised mostly of sand.
garden
tree
fruit
seeds
Wallum Banksia
Australian flora
Wellington Botanic Gardens
(Image credit: Little Fuji)
Mar 12, 2017
John must have been about eight years old when he came across the special offer in a seed catalog: hey kids, add a penny of your own money to your parents' seed order, and you'll get a super fantastic packet of seeds just for you to plant.
If I remember correctly, we taped the penny to the order form, and I got my seeds and he got his. Both our gardens did pretty well that summer, thanks to the good advice of our neighbor on Fifth Avenue in Tuscaloosa, Mr. Crawford. John's turnip, shown here, must have been exactly the super fantastic return he'd been hoping for on his investment–and yup, he's still a gardener today, thirty years later.
At harvest time, he posed for a Polaroid snapshot in the kitchen with his brothers, Joe and Ted. Joe appears to be checking out a previously shot Polaroid, probably watching the colors emerge magically from the paper. Ted appears to be annoyed. Jealous maybe, of his brother's turnip?
Tuscaloosa
garden
John
Joe
Ted
Fifth Avenue
seeds
turnip
1986