Aug 22, 2012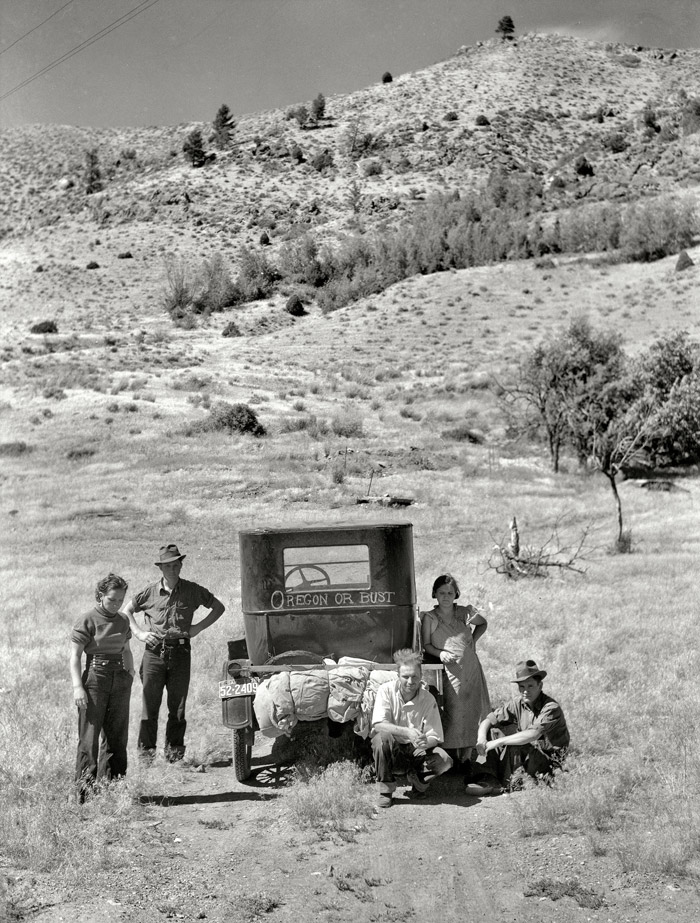 The only summer in American history drier than this summer of 2012 was 1936, the time of the Dust Bowl. In South Dakota, home to the family of Vernon Evans, pictured here, the drought was compounded by a grasshopper plague. The crop failed, the bank took the farm, and there were no jobs to be had. "You couldn't even buy a job," according to Evans.
They had $54, and no idea how they were going to get by, when they piled into their Model T and headed west. The first day they only made six miles before breaking the crankshaft; fortunately, a nearby farmer had a yard full of dead Model Ts; he told the Evanses to find themselves a crankshaft and take it, no charge.
They were on the road again a day later and made good time for the next few days, averaging about 200 miles a day till they reached the outskirts of Missoula, Montana, where they passed a car at the side of the road with a man sleeping in it. They honked at him, "just having a good time." The man woke up quickly, started his car, and chased them down, waving frantically for them to pull over. They thought he was a cop turning them away from Missoula; many communities had posted guards to try to keep the Dust Bowl migrants out of town.
"Well, here's where we go back home," the Evanses said to one another. They had $16 left.
But the cop turned out to be Resettlement Administration photographer Arthur Rothstein, who introduced himself, explained that the sign on the back of their car had caught his eye, and asked if he could take a picture. They told him they were headed for Yakima, Washington, hoping to arrive in time to find work harvesting hops.
Rothstein snapped eight poses there on the road to Missoula, which the family recalled seeing in newspapers and magazines a few months later, when they were newly settled in Oregon, working for the railroad.
landscape
Depression
Missoula
Montana
road trip
Vernon Evans
Dust Bowl
Model T
(Image credit: Arthur Rothstein, via Shorpy)