Apr 24, 2018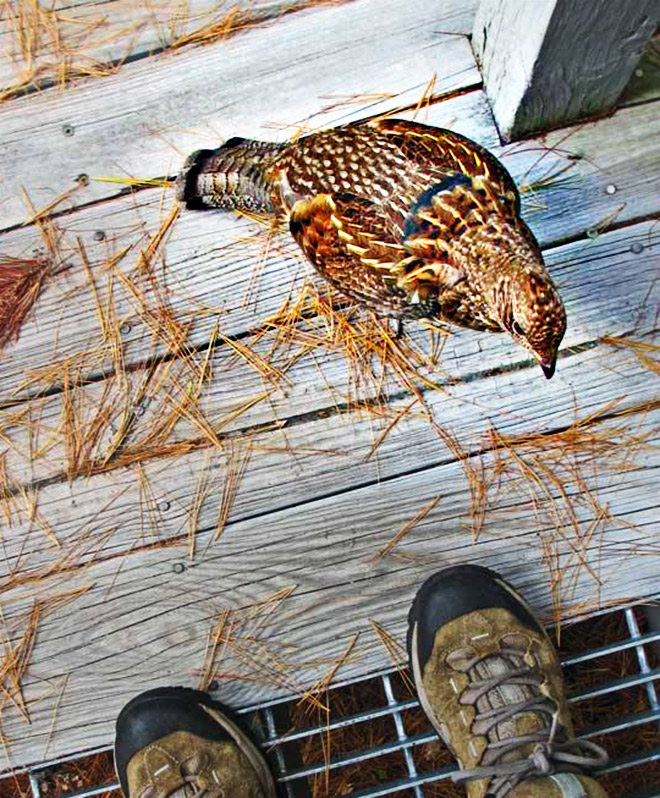 Two years ago, in the month of May, a wild ruffed grouse, who was soon known as Grousey, made his home in a part of southern New Hampshire that was also claimed as home by a human, who was already known as Pat.
For almost seventh months, until mid-December 2016, Grousey and Pat shared their territory. Or tried to.
By all accounts–we're talking social media accounts here–Grousey found living with Pat to be a trial and a nuisance. He often had to chase her into the house and keep guard at her doorway, lest she dare to venture out again.
He acquired many Facebook friends and other fans, and he "never failed to make a showing for those who came to visit." But if they outstayed their welcome, he'd run them off, nipping at their heels.
No one was surprised that Grousey didn't show his feathered little face in the wintertime. But when spring 2017 rolled around, he still did not reappear. "Fans like to think," we're told, "that he smartened up and set up an alternative territory not shared by bothersome humans."
New Hampshire
yard
bird
ruffed grouse
(h/t Pat Nelson)