Feb 24, 2014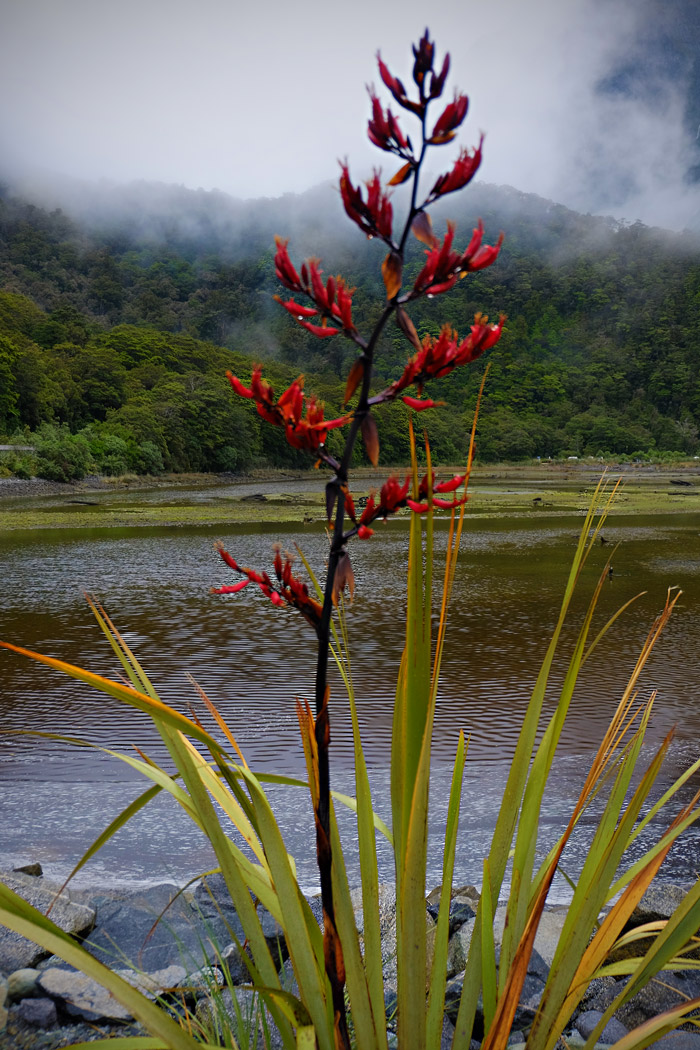 Point your camera at pretty scenes in New Zealand, and it won't take long before you notice how many of your snapshots include a fringe or scrim of tall red-brown lilies.
They call the lilies flax, which makes no sense. In the northern hemisphere, flax is the name of a field crop, a bushy, weedy looking plant grown for linen fiber and linseed oil. In New Zealand, flax is the name for a group of native lilies that grow wild all over the countryside, around mountain lakes and seaside marshes, in suburban yards and rural hedgerows and the far-flung edges of uninhabited woodlands.
New Zealand flax got its name as a marketing gimmick. The Maori called these lilies harakeke, and they used their fibrous leaves for weaving baskets, fishing nets, ropes, cords, mats, and all sorts of clothing, from rough raincloaks to fine gowns decorated with feathers. By the mid-nineteenth century, the strength and durability of the fiber was known around the world, particularly for ropes, fishnets, and cordage; the Maori began cultivating the lilies in huge plantations, sometimes using slave labor to tend the lilies and strip the leaves for fiber to sell to Europeans. The Europeans, smelling money, promoted New Zealand "flax" as a high-quality version of that Old World lineny stuff.
Meanwhile, Maori continued to weave their flax into goods for their own use, including baskets, as depicted below in a 1903 painting by the Czech artist Gottfried Bohumir Lindauer; the flax baskets in the painting are being woven by women who are wearing garments also woven from New Zealand flax fiber. Lindauer, trained as an artist in Vienna, fled to New Zealand to avoid military service in the Austrian army and discovered he could make a living painting scenes of Maori life.
Below the painting here are additional views of New Zealand flax in bloom.
New Zealand
flowers
plants
1903
Gottfried Bohumir Lindauer
flax
lilies
Maori
(Photos by Little Fuji)
(Painting by Gottfried Lindauer)