Oct 27, 2011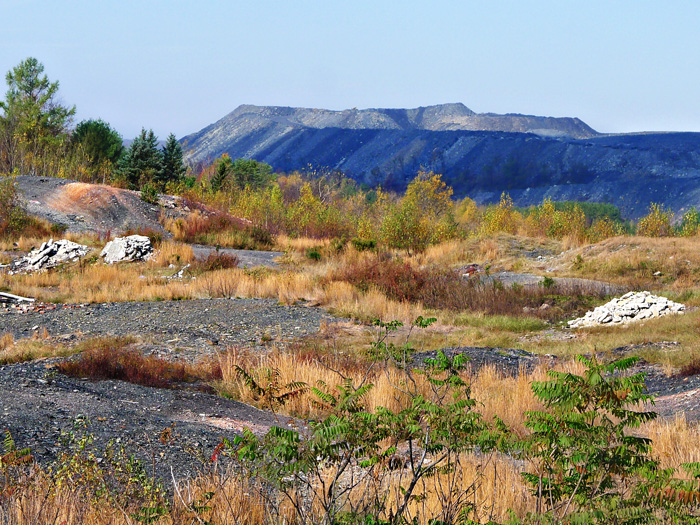 Above, you see what's left these days of Centralia, Pennsylvania, once a busy little coal-mining community, now literally a smoking ruin. Seams of coal in the ground underneath Centralia have been burning for almost fifty years now, despite millions of dollars spent on fire-fighting efforts. The townspeople have all been relocated and their homes and businesses demolished, but still the fire burns, heating the ground from below, venting smoke through cracks in the earth. Researchers estimate it will burn itself out in another couple of hundred years.
Centralia had its fifteen minutes of fame about thirty years ago, when residents finally gave up on fighting the fire and voted to abandon their homes. What was not widely discussed at the time, however, was that although coal fires can occur as natural phenomena, this one was no act of God; it was intentionally set by Centralia's own fire department as part of a routine practice of burning off garbage in the town dump. In 1962, however, the town acquired a new landfill: a long-abandoned anthracite strip mine. When the fire department lit its regular garbage fire in the new dump, an exposed coal seam caught fire.
For twenty years, townspeople fought the fire and tried to live with it. But in 1981, the owner of an Amoco gas station was checking the level of fuel in his underground storage tank when he noticed that the dipstick seemed hot. A thermometer lowered into the tank revealed that the temperature of the gasoline was 180 degrees.
There were numerous complaints of people experiencing symptoms associated with carbon-monoxide poisoning, and the city bought carbon-monoxide detectors for every home. But Centralians still didn't give up on their town until the day that a sinkhole suddenly cracked open beneath the feet of a twelve-year-old boy. He slipped part of the way down into the hole, which was about four feet wide and more than a hundred feet deep, hot and smoking and belching poisonous fumes. The boy's cousin grabbed his arms and was able to rescue him before he fell all the way in, and shortly thereafter, the U.S. Congress came up with $42 million to relocate all 1,000 men, women, and children of Centralia.
Underground coal fires are actually fairly common, especially in China and Indonesia, where it is believed that as much as 10 per cent of all the known coal reserves may have caught fire while still in the mines. About 200 coal fires have been identified in the United States, mostly in Pennsylvania and West Virginia. In the U.S., most coal fires are far from populated areas and are started by sparks from wildfires or lightning strikes in coalbeds. There is geological evidence of coal fires burning many millions of years ago, and it has been calculated that over time, coal-fire emissions of carbon dioxide and other toxic gases may have significantly impacted global warming.
Coal fires are notoriously difficult and expensive to fight, and efforts to put them out often wind up making them worse, feeding the flames with fresh air. In 1982, experts consulted by Centralia proposed an elaborate trenching operation that would cost $440 million and might or might not work. Voters rejected the scheme, and presumably they have now gotten on with their lives, wherever they have gone. A reunion is set for 2015; on the agenda is the opening of a time capsule sealed in 1965, during construction of what was then the new town bank.
In the photos below:
(1) A block in downtown Centralia, from a 1986 photo. All the buildings were razed except for the Speed Shop bike store near the righthand edge of the picture, which caught fire.
(2) Smoke from cracks in the ground, as seen last week. In many parts of town, we could feel the heat through our shoes.
(3) New wind turbines on the ridge north of Centralia. Energy produced by these few windmills must be trivial compared to the energy once dug out of the earth here, which in turn may be trivial compared to the energy wasted by the mine fire. But a new page is turning in the history of this coal country.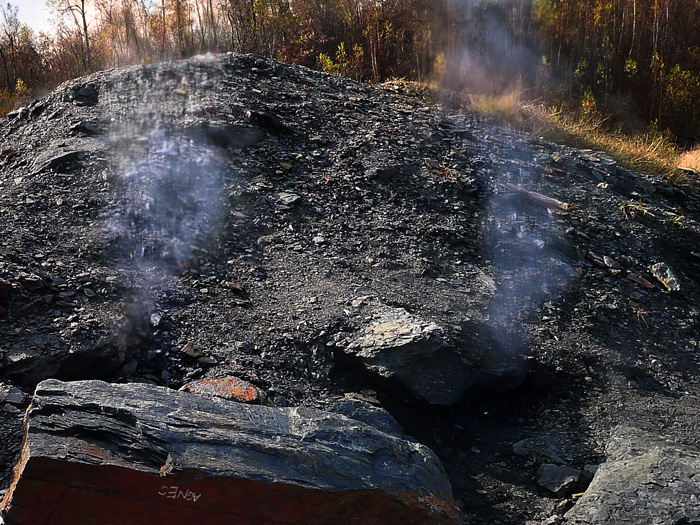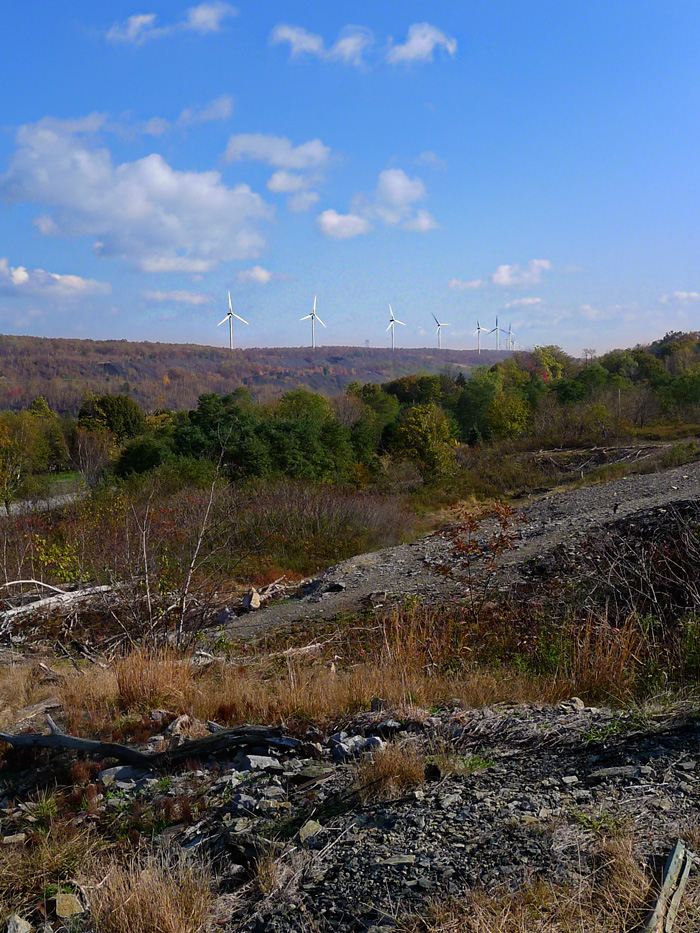 Pennsylvania
coal mine
ruins
Centralia
ghost town
fire