Mar 28, 2011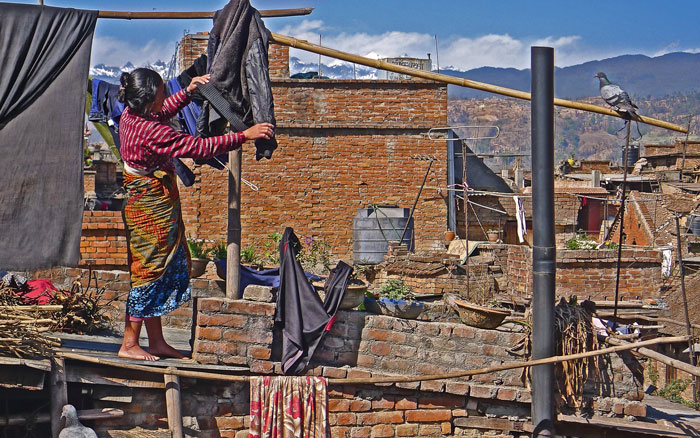 There's a lot going on up on the rooftops around Kathmandu–clotheslines and gardens and solar water heaters and stovepipes and a lot of other stuff beyond my understanding.
This scene was in Bhaktapur, capital city of one of the three ancient kingdoms of the Kathmandu valley, about half an hour's drive from Kathmandu proper. Americans might understand Bhaktapur as a sort of Nepalese Williamsburg, where old buildings and crafts and cultural traditions are consciously preserved and displayed for tourists. No cars are permitted in town. However, Bhaktapur is about a thousand years older than Williamsburg, and it was no colonial outpost; for hundreds of years, it was the political and religious center of a wealthy royal court, with palaces and temples on a grand scale.
In the late eighteenth century, Bhaktapur lost out to an even wealthier kingdom in Kathmandu, and today the 30,000 townspeople get by on tourism and pottery-making; the pottery specialty seems to be wide, low bowls designed for culturing yogurt. An art school in Bhaktapur teaches ancient Buddhist thenka painting, and a paper factory follows traditional paper-making technology utilizing the inner bark of the lokta bush.
Below, in one of Bakhtapur's central squares, a woman walks past a Hindu temple guarded by a god with a mustache.
cityscape
streetscape
Nepal
Kathmandu
rooftop
clothesline
statue