Hole in the Clouds
---
Tag: Carol Fuchs
Jan 6, 2015
Our son Joe and his Aunt Carol coax duets out of the keyboard.
Joe Stein
piano
window
Carol Fuchs
duet
back view
Mar 19, 2017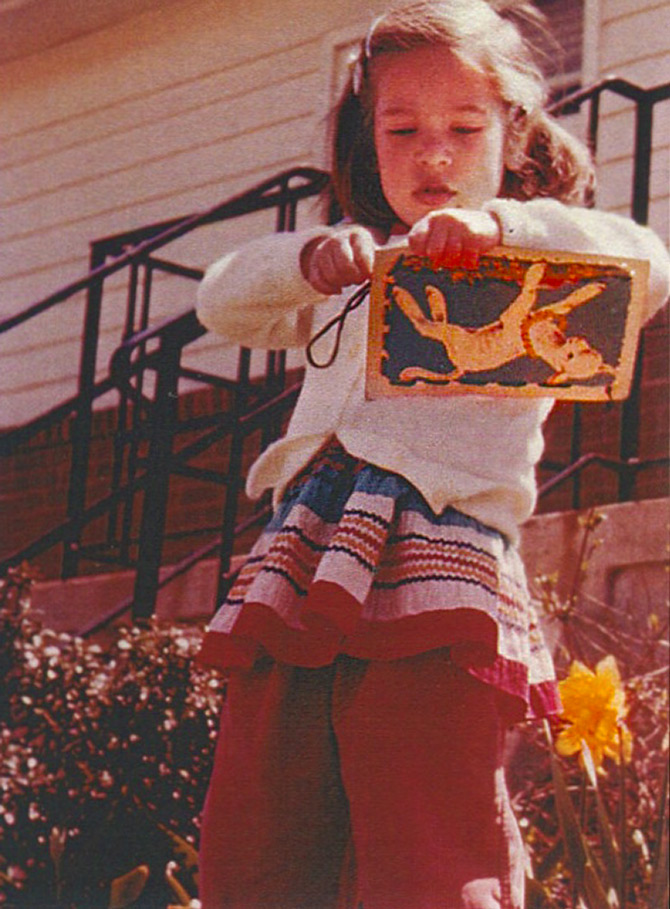 My sister Carol is hard at work on a sewing card, in our front yard in Silver Spring, Maryland, circa 1958.
Back in the day, little girls and perhaps also some boys "sewed" around the pictures on these cards as an introductory activity intended to help prepare us for real sewing. Carol was probably three or four when she threaded the shoelace-tipped yarn through holes punched in the card; by age five or six, she had probably moved up to simple cross-stitch embroidery using real needles and thread and tiny, child-sized thimbles. All that stuff is out of fashion now, though the old cards, sometimes called lacing cards, are still available on ebay and etsy. Maybe the whole sewing thing is just too girly for modern parents. Or too 1950s.
I never was much of a girly girl, but I really loved sewing cards and cross stitch, and I kept begging and begging my mother to teach me how to use her sewing machine. As soon as I started to learn, however, I gave it all up for good. It turned out that real sewing involved ironing each seam as you went along–and I hated, hated, hated ironing. Also, sewing under my mother's eye required doing the stitches properly–in other words, I had to rip out most of my attempts at seams and do them over and over again.
But Carol was and still is good with her hands. For her, the sewing cards may have served as preparation for piano lessons, or for penmanship at school. But isn't this activity more suitable for work indoors, sitting down on the floor or at a table? I'm guessing Carol put her sweater on and brought the card outside so our father could take a picture without a flashbulb.
Maryland
yard
springtime
Benson Terrace
Silver Spring
Carol Fuchs
sewing card
late 1950s
(Image credit: Bob H)